We are well into May and on the verge of enjoying all sorts of summer activities. Last year at this time we were quite restricted and times were very uncertain with lots of rules and recommendations to just stay home. As we continue on, hopefully you have found your way to a more "normal" life. Although life may not be back to the way it was, my wish for you is that your days have lots of bright spots in them.
Like so many of our other chats, I find myself sitting outside enjoying the sounds around me. Right now a duck is quacking as it swims by my bench. I even had to dodge two hissing geese on my way to this spot as they were trying to corral their new family of five. People are out today walking on the path pushing strollers or riding skateboards. The sounds all around me are filled with nature, rushing water from the dam, birds chirping in the trees, and some bug calling for its mate.
What an appropriate place to be when I'm in the mood to chat about going on a picnic or planning a camping trip.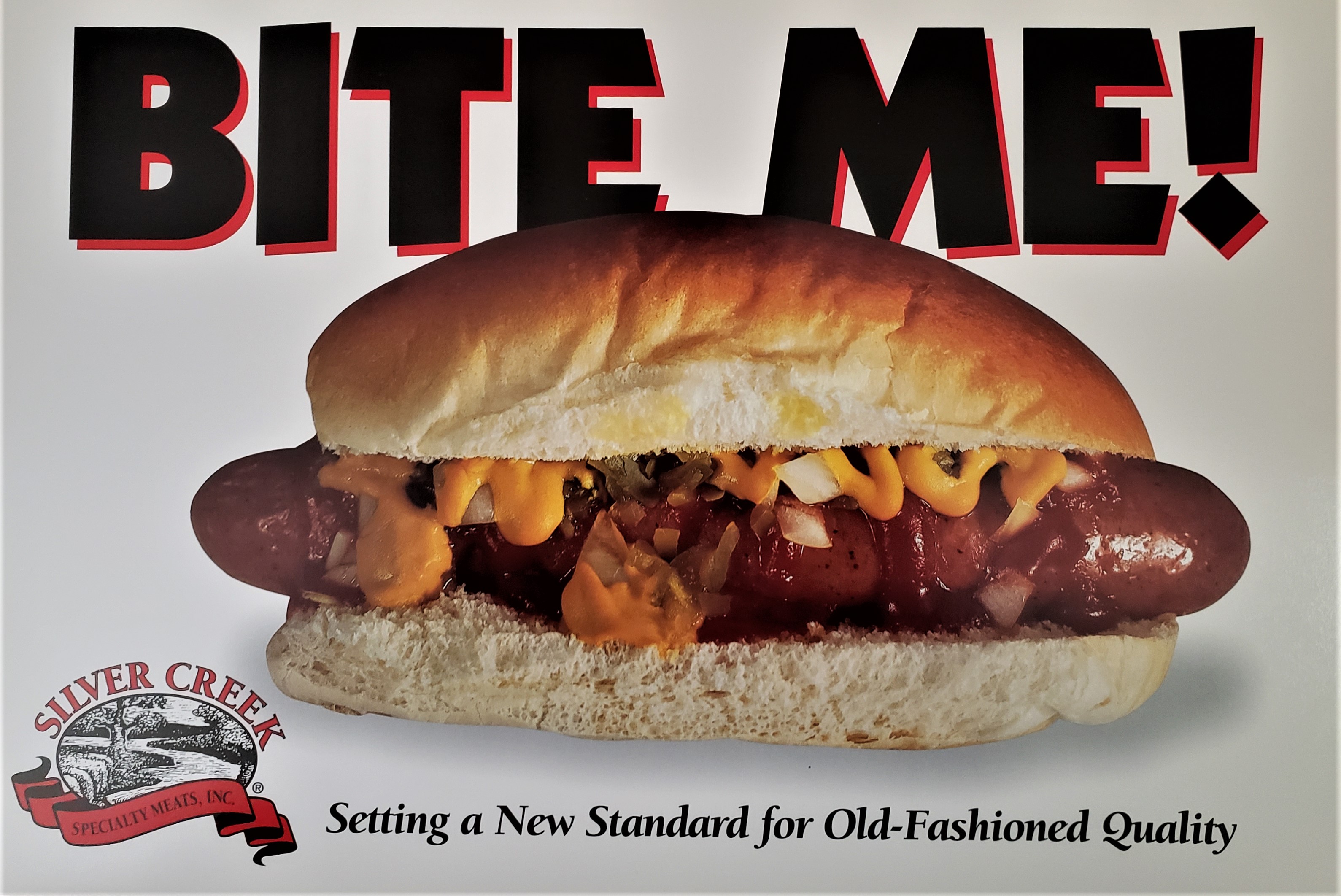 Over the past 30 plus years, Silver Creek Specialty Meats have been crafting amazing products for just such occasions. Certainly we make the best hot dogs around, so if you happen to be planning a local fundraiser in the Fond du Lac/Oshkosh/Fox Valley area, don't hesitate to reach out. We can hook you up with some incredible hot dog options.
When you visit our website, you will continue to score some very tasty treats. Whether you are going on a picnic or eating at a campfire (Both are really the same to me. You're eating outside right?) I've got some ideas for you. Are you a sandwich lover? The options are nearly endless. There are so many great breads and wraps to choose from. Anything on pumpernickel or dark rye works for me, but I do love a crusty roll too. You may recall that I'm a cheese lover from start to finish, so look out deli, here I come. Those poor people behind the counter. I'm sure my visit makes them a little bit crazy since I'm notorious for requesting a few slices of this and a few slices of that and oh, how about a few slices of that one too? I just LOVE the deli counter! So many choices like sharp cheddar, Swiss, provolone, Havarti with dill, and even Co-Jack with peppers. Variety is the spice of life. Do you happen to know where that saying came from? I just had to look it up and believe it or not, it's been around since 1785? According to Ginger, William Cowper used the phrase "Variety is the very spice of life, that gives it all its flavor." in his poem The Task. Sorry, I had a "squirrel" moment there. Back to our sandwich.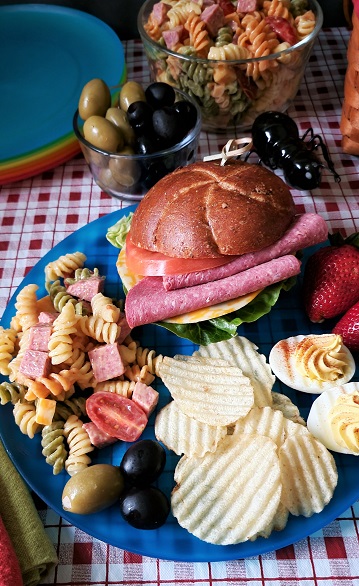 Ok, so we have the bread and we have the cheese. Let's choose some colorful toppings like green leaf lettuce, red onions & firm, plump tomatoes. Don't forget the mustard! Spicy Brown for me please. I just need all these textures and flavors when I'm creating a sandwich. How about you? Now, as far as I'm concerned a sandwich isn't a sandwich without an outstanding summer sausage. That's where we come in. We offer three "sandwich sized" options. Our Jim's Blue Ribbon slicer is available in both plain or garlic. We also have a Busch Beef slicer and a Thuringer slicer too. When you choose any one of these you will get anywhere from 3.6# to 7.8# of YUM! Just slice it to your preferred thickness and your sandwich is complete. Did you know we have 17 different varieties of summer sausage? You can mix and match to the delight of your tastebuds. The Cracked Black Pepper summer sausage adds just the perfect pepper tang for you pepper lovers. I'm speaking from experience so I'll encourage you to give it a try. Our Silver Creek Venison Summer Sausage is available in a 2# size which gives you a nice sandwich option too because the diameter is a bit larger than the 8 oz or 1# size.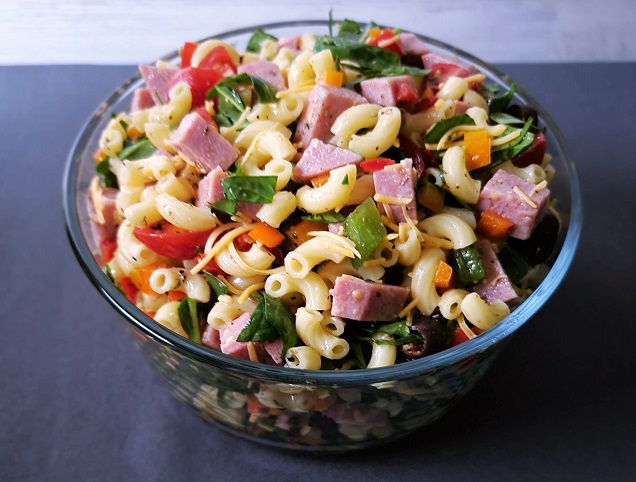 What picnic or outdoor meal is complete without a pasta salad? Click here for my recipe idea and create your own Italian Turkey Pasta Salad using our Turkey Summer Sausage. It's light, colorful, and oh so tasty. If you need a dish to share for a summer party, this makes a nice sized bowl full.
Maybe you are looking for some snacks to tide you over until the next meal. Our meat sticks will do just that. Beer N Cheese sticks are a tasty treat with real aged WI Cheddar. Perfect to pack and take with you. When available, the Ends & Pieces are fun treats. True finger foods that range from 8 oz to 2.5# packs. Ends & Pieces are by-products of our meat sticks. When we make the perfect cut sticks, the "ends & broken pieces" get packaged and sold. No need to waste them. They are just too good!
Do you like to make easy meals with even easier clean up? I do! The use of aluminum foil comes in very handy for this next suggestion. I do need to give a shout out to Dr. Lauber, Neher & Cie of Emmishofen, Switzerland where in 1910 aluminum replaced tin in the 1st aluminum foil following plant. In 1911, Bern-based Tobler began wrapping its chocolate bars in aluminum foil. The first use of foil in the United States began in 1913. It was used to wrap Life Savers, candy bars, and gum.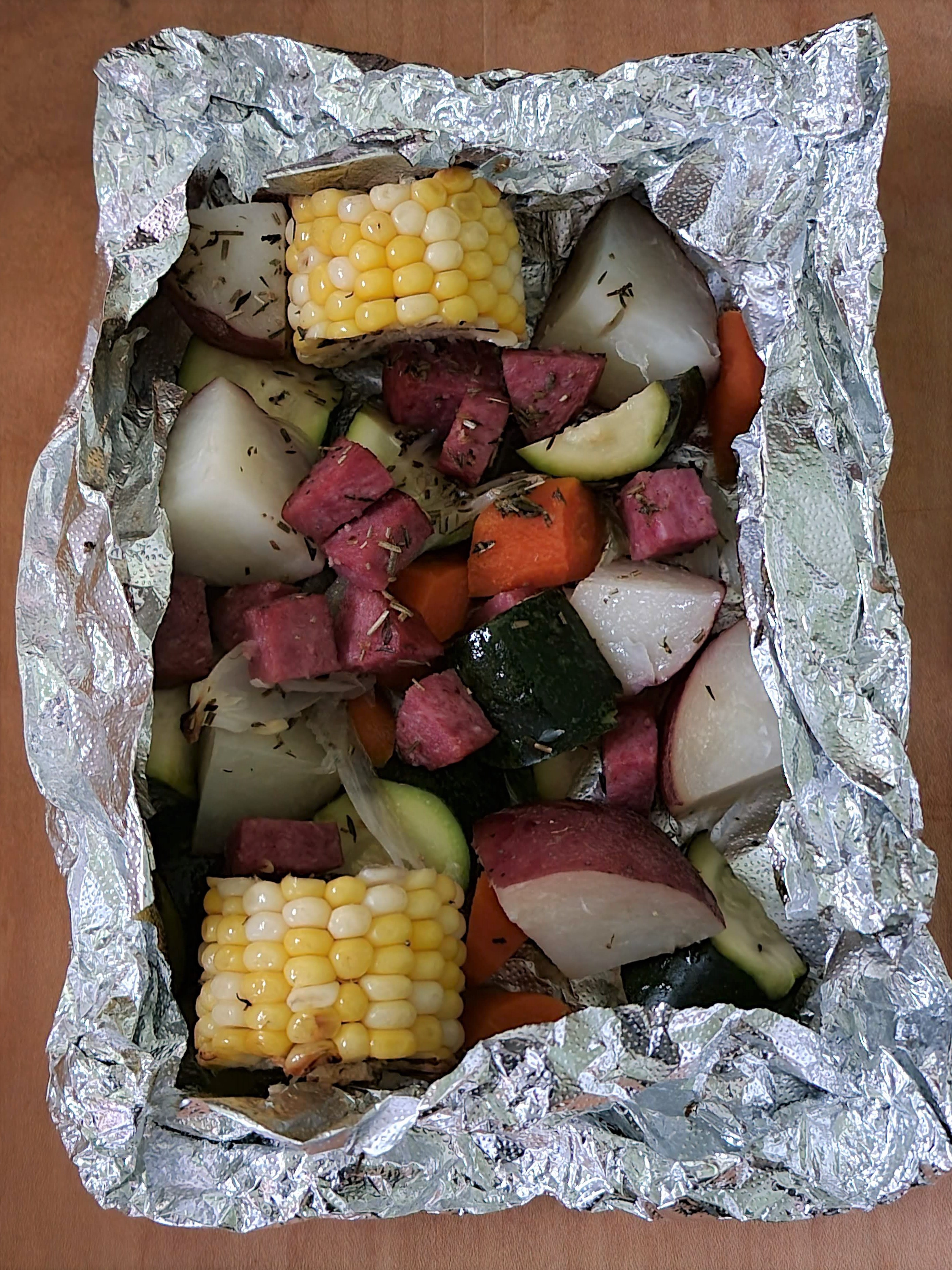 Something I like to do is use a foil pouch or foil pan and fill it with all sorts of veggies, seasonings and sausage. Seal them well and cook on a grate over the fire or on your grill. Peel open the foil and enjoy the tasty treats inside. Chunks of summer sausage, Luxemburg or Gottenburg sausage work very well here. The unique seasonings of the meat blend well to provide additional flavors to your dish. Clean up could be easier so get creative and be sure to share your photos with me. I love to see what you are cooking and enjoying day to day. My hope today is that I gave you a couple of new ideas as you plan your outdoor eating adventures.
Well the ducks are still quacking and the birds are still chirping. I wonder if the geese will hiss at me again as I move back up the path to my car. Wish me luck! Until next time…
Enjoy the day,
Karla
Cracked Black Pepper Summer Sausage