Welcome back! I hope you are enjoying the end of winter. As I'm sitting here thinking about our chat today, the April showers are doing their job. May flowers won't be far behind. My thoughts tend to go to brunch at this time of year, so that's what I have in mind for you today.
When you think of brunch, do you think Bloody Mary or Mimosa? I'll let you click here to read the article I came across regarding that debate, but today - Bloody Marys are the winner! I mean really, would you garnish a mimosa with meat? Nope - Bloody Marys win here every time and since I have a few garnish ideas for you, we will stick with brunch and Bloody Marys. You may recall from previous chats that I'm a wine girl, so my Bloody Mary skills may not be up to your expectations, but our summer sausage and snack sticks speak for themselves.
Have you ever asked yourself, "Where did the idea for brunch come from?"
Well, I did and since we are talking a bit about brunch, I did a little digging into its history. Did you know that brunch originated in England in the late 19th century and became popular here in the United States in the 1930's? As you may know, it's name came from a blending of breakfast and lunch and is generally eaten between 11 a.m. and 2 p.m. In England, brunch eliminated the need to get up early on Sunday morning and this made life brighter for Saturday-night carousers. (I love that, someone is always thinking). Historically, brunch was prepared in restaurants and hotels for special occasions such as Easter and Mother's Day. England and the United States aren't the only countries you will find a brunch option. Dim sum brunch is popular in Chinese restaurants. It consists of a variety of stuffed buns, dumplings, and other savory or sweet food items. In Canada, Leslieville neighbourhood is sometimes called the brunch capital of Toronto. A German-style brunch could be referred to as a Smorgasbord.
Brunch is home to many tasty treats including waffles, fruits, pastries, eggs, meats, and most likely some form of alcoholic beverage. I'll just bet you can guess what type of brunch items I'm going to chat about today - sausage, eggs, and combos of the two. When you serve your next brunch, be sure to include some of the fabulous meats we have to offer. Will you be serving scrambled eggs? Great, just add in some diced sausage. Two birds, one stone and room on your plate for more goodies. Making a quiche or egg bake? Perfect, our Crustless Turkey Quiche is amazing. Click here for recipe idea. A perfect complement to your eggs would be slices of Venison Summer Sausage or Turkey Summer Sausage. Just slice to your preferred thickness and warm in a pan to release additional flavor. I like to brown mine just a bit too.
The Luxemburg Sausage is another fine choice as a side or mix in. Just like the rest of our sausage, this is also fully cooked. It is great hot or cold so warm some up or slice and serve on your cheese platter.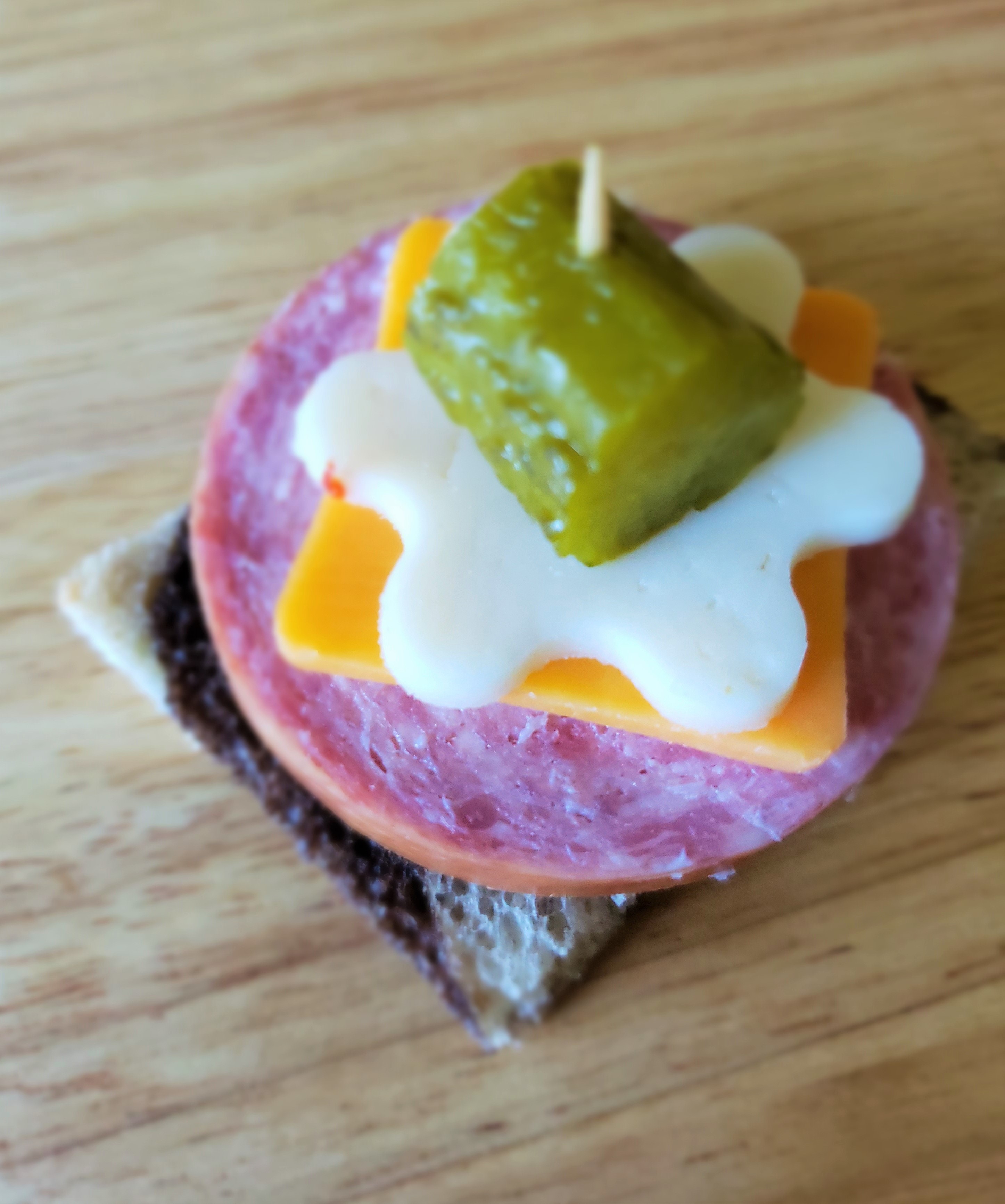 Are you getting some ideas? Is this making you hungry? It's making me hungry as I have a vision of a nice plate with eggs, fruit, a slice of sweet bread, and a few slices of savory sausage. YUMMY!! Do you see a Bloody Mary in that vision? Maybe up there in the right hand corner? Me too! We all know Bloody Marys can be meek or extreme. The more I researched Bloody Marys the more extreme they became.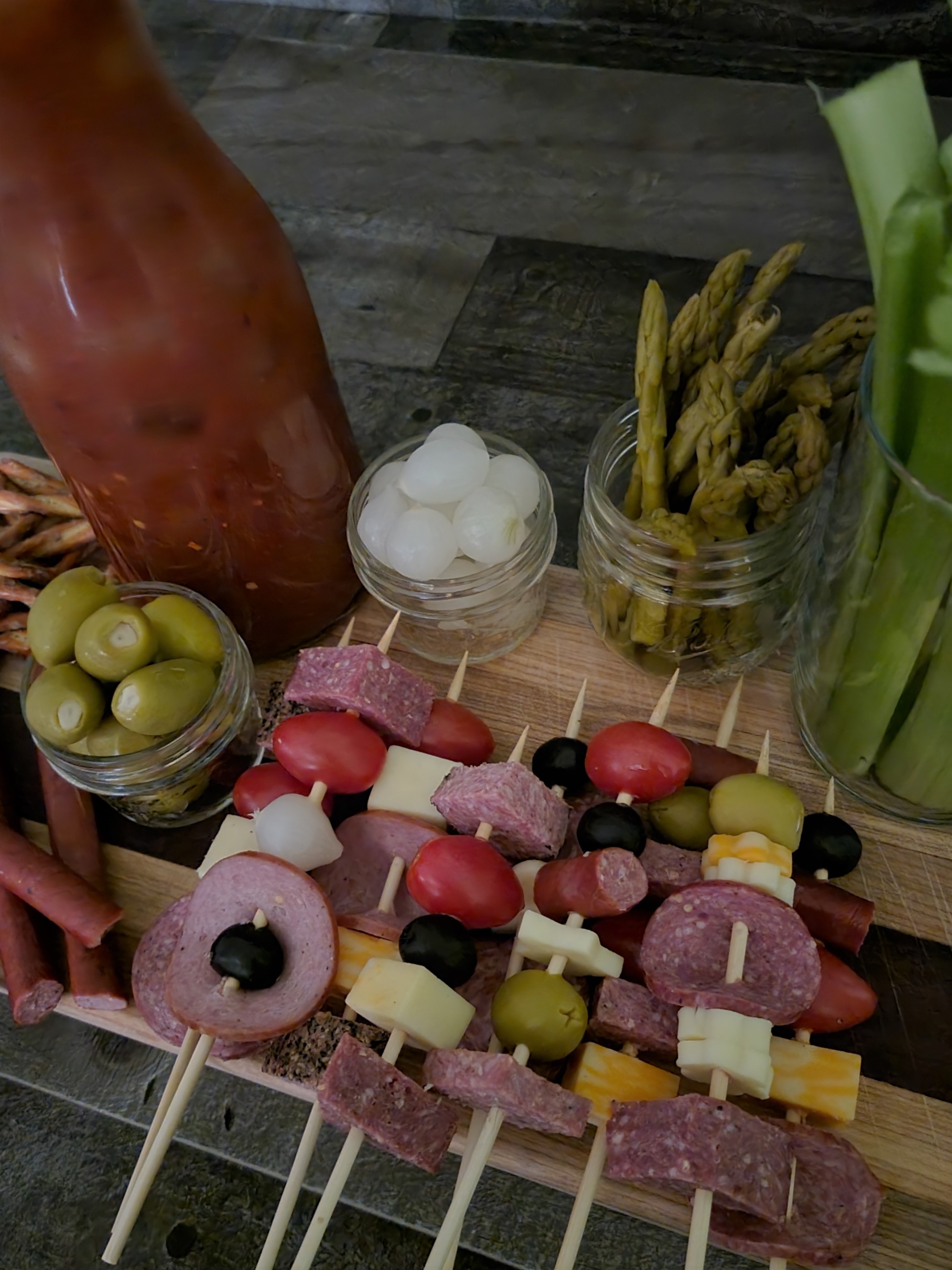 Speaking of Bloody Marys, do you know anything about its history? Again, time to do a little research and see where it takes me. Bloody Marys are a popular brunch beverage. The original recipe for a Bloody Mary seems to be traced back to only a handful of places. One of which is Harry's New York Bar in Paris, France. Around 1920, Harry's bartender, Ferdinand "Pete" Petiot, started experimenting with new cocktails with vodka thanks to an influx of Russian immigrants leaving their country due to the revolution. It was at this same time that American "tomato juice cocktail" was hitting French grocery shelves. After some mixing and adding a few extra flavors like Worcestershire, black pepper and lemon, the "first" Bloody Mary was born.
So where did the name come from? According to Liquor.com, the most fanciful is that the Bloody Mary dates to the rule of ruthless Queen Mary I of England in the mid-1550s. "The tomato juice represents the blood spilled, while the vodka, a 'firewater,' is symbolic of the queen's brutal means of executing the martyrs." Click here to read the article and find a drink recipe.
As I mentioned, we have a wide variety of summer sausage (the Cracked Black Pepper is amazing with a Bloody Mary) and snack sticks galore. So skewer up some goodies like cheese, olives, meat sticks, and sausage to garnish your next masterpiece.
Looks like our time together has come to an end today. Mother's Day is just around the corner, so we will chat soon about some options for the "moms'' in our lives. Until next time…
Enjoy the day,
Karla