Here we are moving into a new year. The time to start making your Super Bowl party plans is just around the corner. Not many, if any, will be in person for the game, so let's make plans for in home and online parties.
If you are thinking about the history of the Super Bowl, you might be asking, "When did all this begin?" Well, being from Wisconsin, it's only fitting to talk about the first game which was then called the AFL-NFL World Championship Game played on January 15, 1967 at the LA Memorial Coliseum in Los Angeles, CA where the Green Bay Packers handed it to the Kansas City Chiefs with a final score of 35 -10. Go Pack! The "Super Bowl" and its Roman numerals as we know it began in 1969. (1)
Here we are in 2021 getting ready for Super Bowl LV scheduled for February 7th. It's crazy how time flies. Maybe you remember all 55 games or maybe you are new to the idea. Regardless, a majority of folks have something in common - the desire to eat good food and enjoy life.
How will you prepare for Super Bowl LV? What will you be eating or sharing with family and friends? How about a few creative snacking ideas? You know I'm just bursting to share a tip or two with you. Silver Creek Specialty Meats has snacking options for both the mild and wild taste buds on your party list. So game on!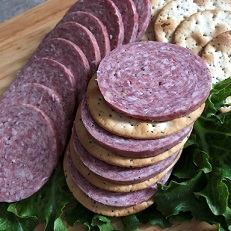 We are going to ease into this with a fan favorite. Nibble on this while you sip your favorite beverage. A long standing favorite is our Jim's Blue Ribbon stacked on a cracker. Garlic for me please, but you can also choose our plain or all beef varieties too. Simply stack em high and enjoy.
Score some extra points with your guests when you bring out a platter of meat sticks wrapped in flaky dough. Cut any one of our meat sticks into about 1 ½ inch pieces and wrap them in your favorite crescent roll dough. Serve with a cheese sauce for dipping. Pull one off, dip, and enjoy.
Who doesn't love a great sandwich? A sub sandwich masterpiece crafted with our sandwich sized summer sausage is a crowd pleaser for sure. We have three "slicer" varieties to choose from: Jim's Blue Ribbon in plain or garlic, Fred Busch All Beef, or Busch Thuringer. Slice these to your desired thickness and enjoy! These beauties weigh in between 3.5# and 7.5# of deliciousness. If bread isn't your thing, just roll them up and enjoy as finger food.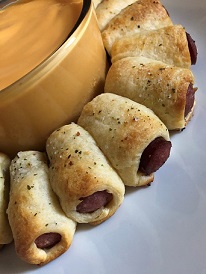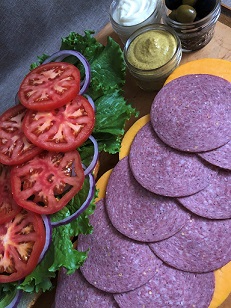 So let's run for the end zone. Be careful that your team doesn't miss a touchdown when you bring out this platter of snacks. Definitely something for everyone. Okay people, huddle up and dig in. Until next time...
Enjoy the day,
Karla