Soup - seasonal or not? What do you think? Personally, I enjoy soup all year long, but there are certain soups I like more in the winter months.
I'm a "terrible cook" if you need things measured and precise, but I'm a great "dump & pour" cook. I always have been. I was blessed with the ability to be able to guess and adjust. People ask me for recipes all the time, unfortunately, I can only get them somewhere in the ballpark since I rarely measure and hardly ever write things down. My legacy won't be a book filled with handwritten recipes, but I will leave behind memories of how much you liked my food. I had a grandma who "taught" me how to cook this way. In all honesty, I just watched and absorbed because this is how she cooked. Now my poor daughter is at the disadvantage of having to figure it out on her own. She will ask for ideas and feedback when we cook together and the best I can give her is: "Well, use about this much, or that looks about right." "Taste it and see what you think…" It's a good thing she is flexible.
So when it comes to soup, you can imagine the "dump & pour" method is used a lot. When I look at the sausages we make, ideas just flow. I took a very basic vegetable soup and instead of browning hamburger or using stew meat, I chopped up some of the Silver Creek Venison Summer Sausage (1) and added that to the pot. I started with a beef broth base and some diced tomatoes, from there I took a look in the fridge to see what veggies were available. I love a crisper drawer that is stocked with carrots and celery, but that's not always the case. Now don't get the impression I'm opposed to frozen veggies. There are times when my fresh veggies become frozen veggies to keep them from going bad. It's not unusual for me to have a "chopping" session in my kitchen just so I can make one big mess and then freeze my work for use at another time. Seriously, how quickly do you go through a bunch of celery?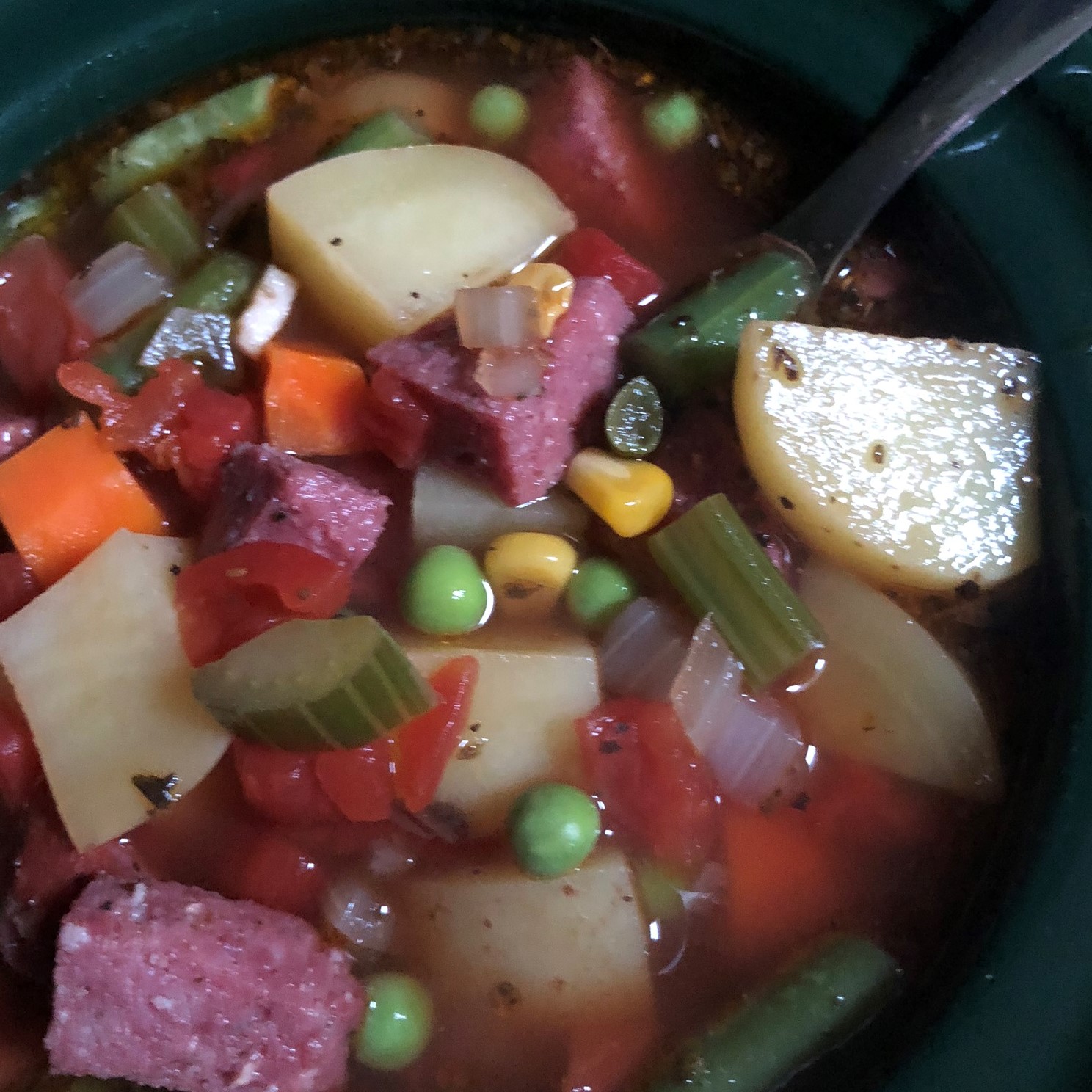 Back to the soup - carrots, celery, corn, green beans, and potato cubes all find their way into the broth.
Seasonings vary. My "go to" spices are oregano, basil, garlic, salt, pepper, and cumin. I just love these when combined and in this particular soup, they were fantastic.
We have a great crew at the plant who make all of our meat products, so it feels good to share the results with them. Not a kernel of corn was left in the pot - I guess they enjoyed it.
Did you ever give any thought to adding summer sausage to vegetable soup? Maybe now you have a new idea. If venison isn't your thing, you could try the elk, buffalo, or a plain beef summer sausage too (2).
Moving on to the next idea. I think I've been pretty transparent about my love of cheese. If you read any of my other "chats" I think you will get the common theme: Cheese is good!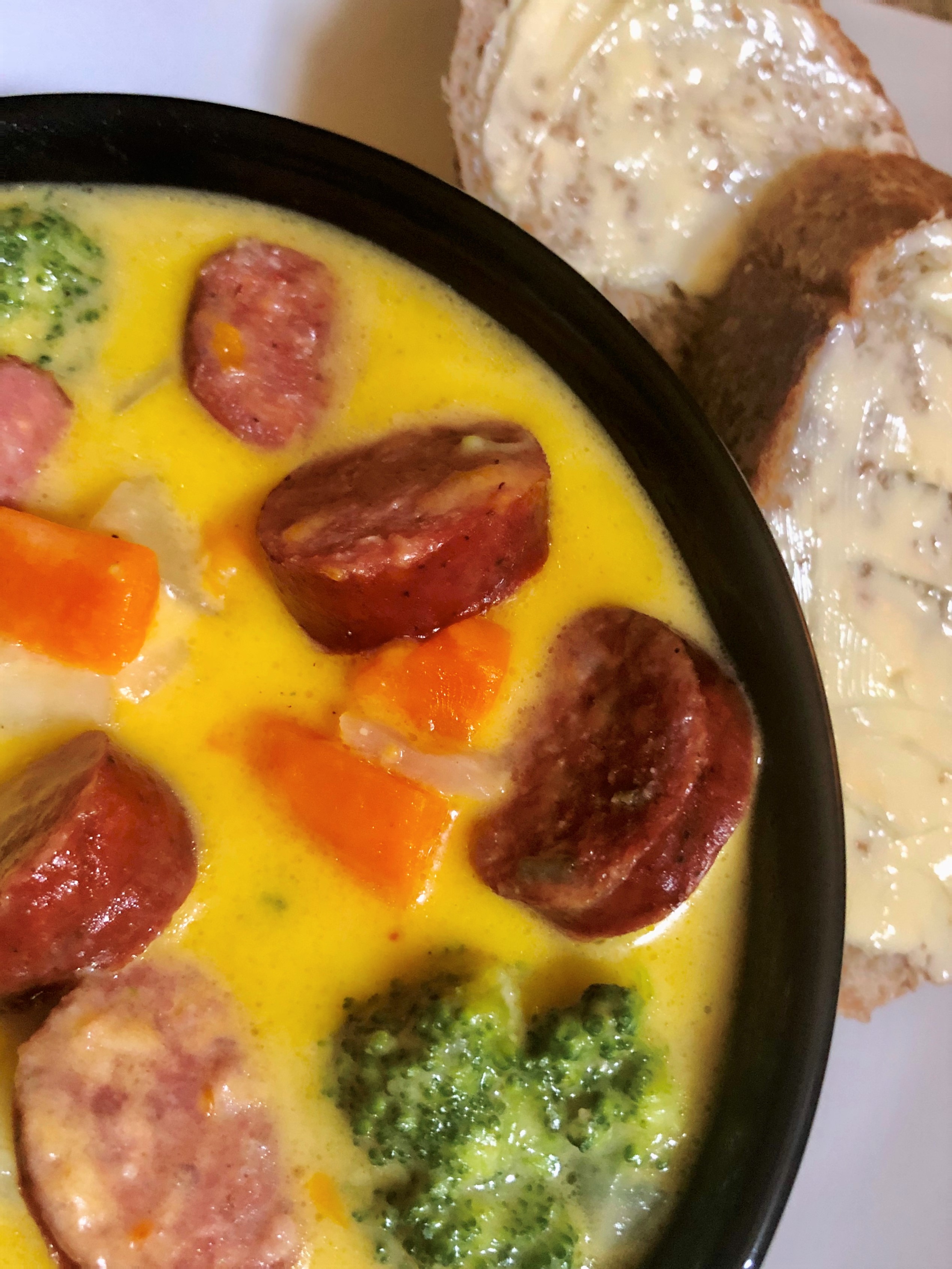 It only seems right then that I tell you about this one. It's so simple, but it is so tasty. Are you a fan of broccoli cheese soup? I'll just bet you can guess how I feel about it. Well, I made a pot from scratch but enhanced it a bit. I like color and my soup needed some carrots to go with the broccoli. You don't have to use carrots, but I enjoy them. Add a bit of corn, celery, onion, and/or potato to the pot. This creation can be anything you want, but don't forget the meat!
This particular soup got a good dose of our Landjaegers (3 & 4). Now I used a combination of both the plain and the jalapeno varieties, but you can choose one or the other too. Let me tell you, the seasoning in the meat just gave the soup a special addition of flavor. I only used a bit of salt and pepper this time and let the Landjaegers work their magic. Once again, not a spoonful was left after our crew enjoyed it for lunch.
I'm going to share one more idea today, but believe me, I have a lot more and will revisit this in the future.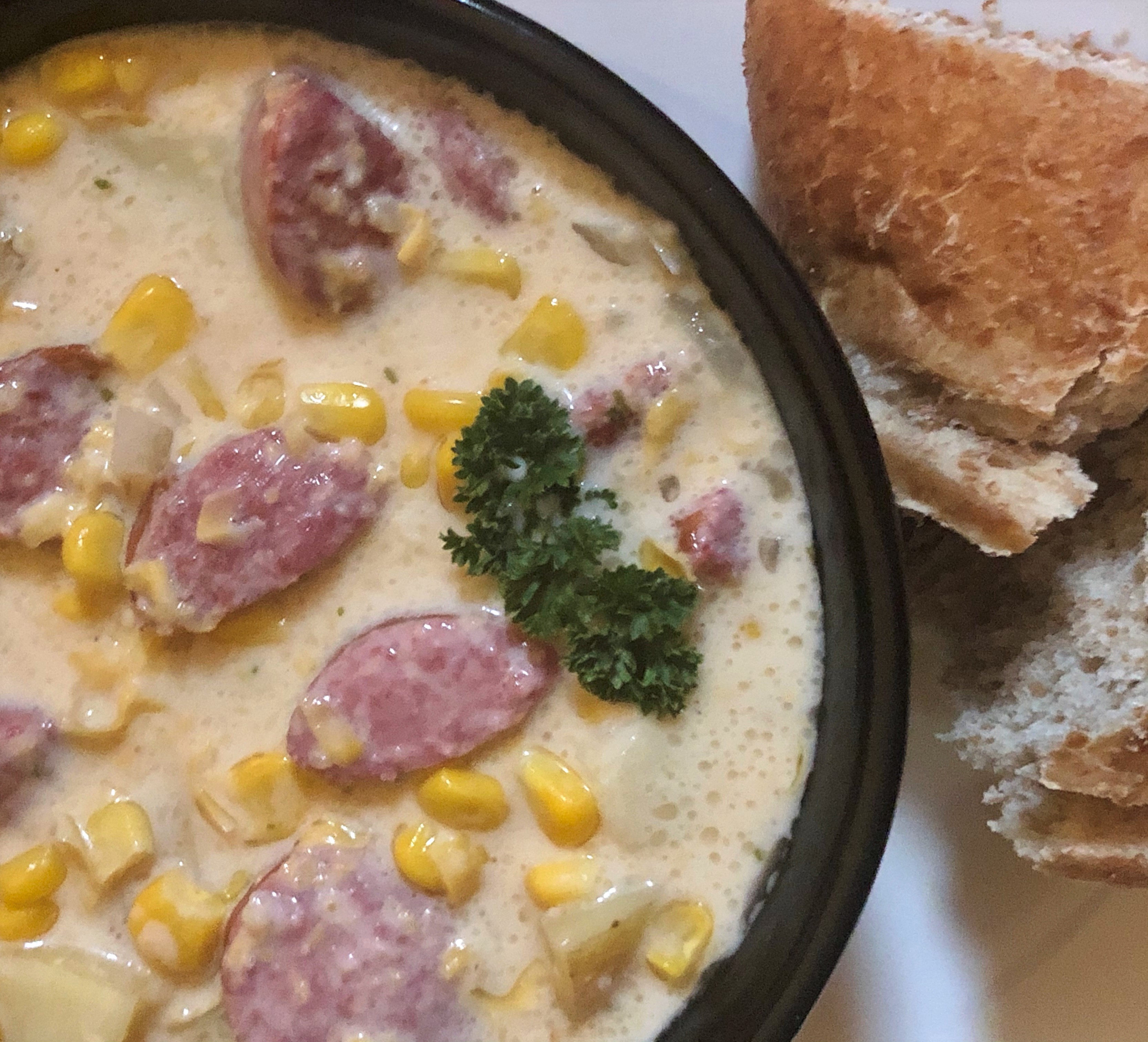 How does a Luxie corn chowder sound? A dear friend of mine planted this seed in my head and I'm so grateful she did. What a treat. I looked at a recipe to get an idea of what should go in a corn chowder because I can't say I ever made one before. Well, it was so simple, and so tasty.
Full disclosure, this recipe called for creamed corn. I'm not much of a fan of creamed corn, but it was ok. What I did like was the thought of whole kernels of corn. Now, that made all the difference in the world for me, not only in how the soup looked, but the texture on my tongue. So, golden kernels of corn is what I would use in the next batch and believe me, there will be another pot of this soup to come off my stove.
With the help of some chicken broth, milk, butter, and flour this soup started to take shape. The key to this chowder though was the addition of our Luxemburg Sausage (5). Thick slices of the sausage were added to the broth mixture along with the veggies. A very cool thing happened here, the work of seasoning was taken away. When you use a good sausage, the spices from the meat soak into the soup and you have a super easy and flavorful meal. Serve this warm with some crusty bread and you will be making a note to make it again too.
Luxemburg sausage is part of our Fred Busch product line (6). We offer a Gottenburg sausage in both natural casing and artificial casing, an all beef slicing summer sausage, as well as a Thuringer summer sausage all from the Busch family of products. We acquired the Fred Busch Company out of Chicago in 2002 and continue to make the products the same way all these years later. I really appreciate consistency and love it when things taste the way I remember.
Customers still give us feedback like this:
"My mom got this sausage when we were kids as her dad used to bring it home when she was a kid, from store in Chicago. Since we can no longer get it in stores, I've been ordering from Silver creek and have never had a single complaint! Ordering process is simple and delivery very quick! And the sausage is delicious!! My mom says as good or better than she remembers as a kid." CF
"Fred Busch Luxembourg sausage has been a part of my family for over 100 years. I worked at the Busch plant when it was in Chicago. The sausage is excellent." RC
"This is exactly as I remember it from my childhood! Great taste - am planning to buy some for mom and other Luxie relatives too!" SK
You know as well as I do, life keeps changing. Isn't it great to hold onto some of our old favorites? Luxemburg sausage comes in a "ring" style and has a natural casing surrounding that blend of beef, pork, and spices.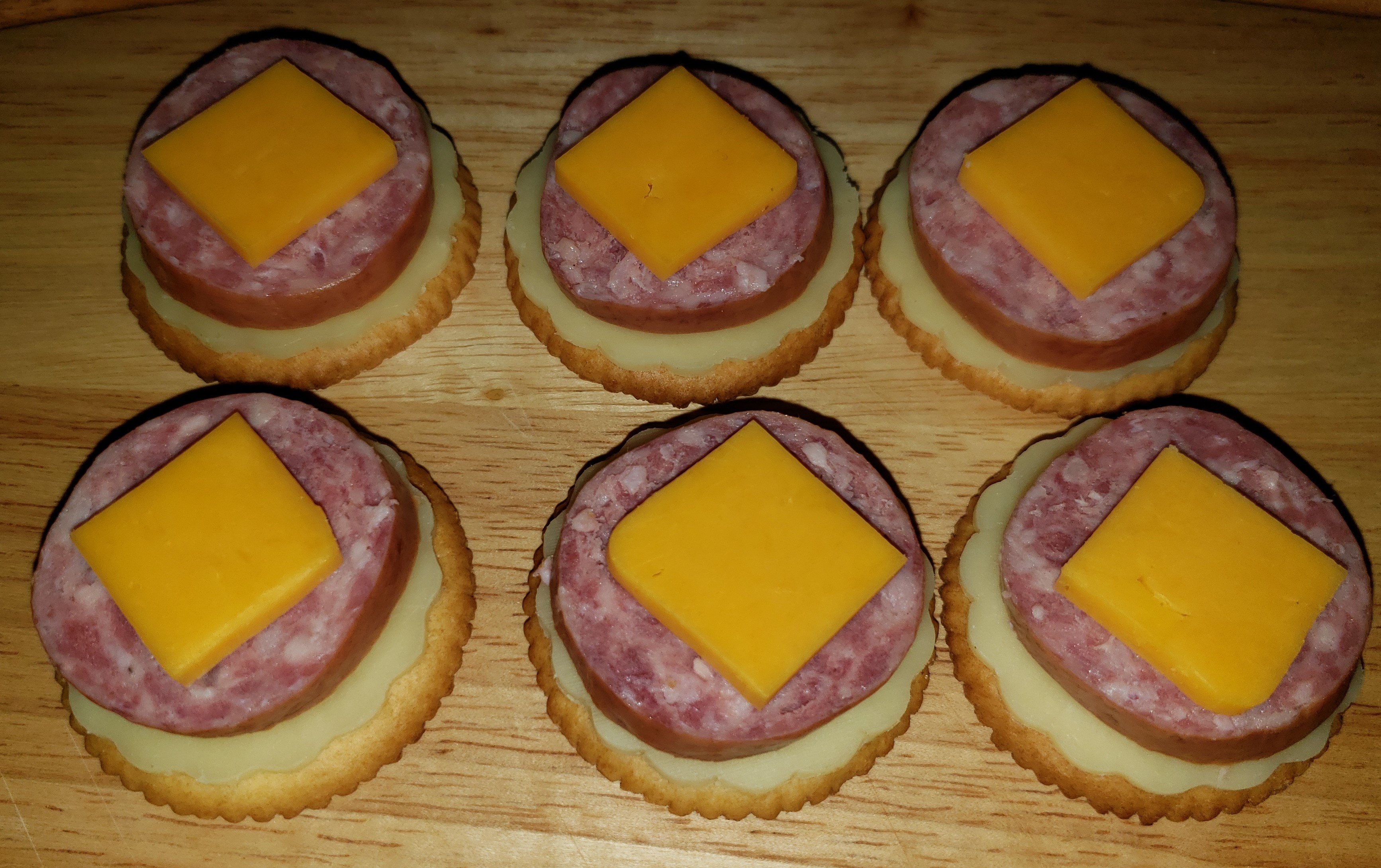 Luxemburg sausage is so versatile. You can eat it hot or cold. It's shelf stable, it doesn't need refrigeration until you break the seal on the package. If you are looking for an appetizer, slice some and eat it on a cracker or spear a chunk with a toothpick and enjoy.
Well, I'm moving into another whole idea set, so let's chat about those possibilities another time. So there you have it, sausage isn't just for cheese trays. You can do so much more. I would love to hear your ideas and see your pictures, don't hesitate to share them with me. Until next time…
Enjoy the day,
Karla
Product Links:
2. Silver Creek Beef Summer Sausage
4. Jalapeno and Cheddar Landjaeger