Welcome back! Let's continue our chat about the Fred Busch story and product line. I had an interesting conversation with Bill Kramlich Sr. the other day where he relayed to me how Silver Creek Specialty Meats came to acquire the Fred Busch product line. One day while at the plant, Bill received a call from John "Jack" Macnamara, who was the current owner of the Fred Busch Company wondering if he would have an interest in purchasing this company.
Jack Macnamara purchased Fred Busch Foods Corp. in the 1970's and ran it for most of 30 years.* It seems that the times were changing in the Portage Park area of Chicago. This is where the facility was located, on North Milwaukee Ave. The local area that surrounded the facility was being developed. New neighbors moved into the area, a different view of how the landscape should look came about and a smokestack didn't factor into the vision. These changes caused Jack to reassess their location and attachment to the business. Time to move on.
So this is where our Busch story begins. Bill contemplated the offer and as they say, "The rest is history."
Silver Creek Specialty Meats purchased the Fred Busch Foods Corp. in 2002 and moved operations to Oshkosh, WI where their products became part of the family of our Silver Creek products. Some paring down of product offerings occurred, but we kept the sausage items that made the most sense to us.
Last time I chatted with you about the Luxemburg and Gottenburg sausages. Today, let's chat about the Beef Slicer and Thuringer summer sausages. You will even get to hear from some of our customers. We are blessed with so many reviews and it's a delight to share them with you. You can always go online and check them all out too.
These two summer sausages have their differences, but also their similarities. The Beef slicer is just that - all beef, unique seasonings, and is finished with real hardwood smoke. The Thuringer is a combination of beef and pork, seasonings unique to the Busch line and also finished with hardwood smoke. The diameter of these summer sausages is about 4" making them the perfect "sandwich sized" summer sausage since they fit a slice of bread as it should. A lot of times you will see "slicers" in the deli where they cut the meat to your specifications.
"I live in Southern California. This summer sausage is a taste from my childhood in Wisconsin." RG
"I live in Las Vegas. Summer sausage is not available in supermarket delis. What is is small, heavily salted and not quality or good tasting. I have been ordering from Silver for almost 10 years. Their summer sausage is superb in taste and price. Great as a sandwich and terrific when fried." EN
"I have loved this sausage ever since I was a kid growing up in Chicago, and I'm so happy to have discovered a few years ago a way to have it shipped to Austin. There are few things in this world as satisfying as Fred Busch summer sausage on rye with Swiss & mustard!" J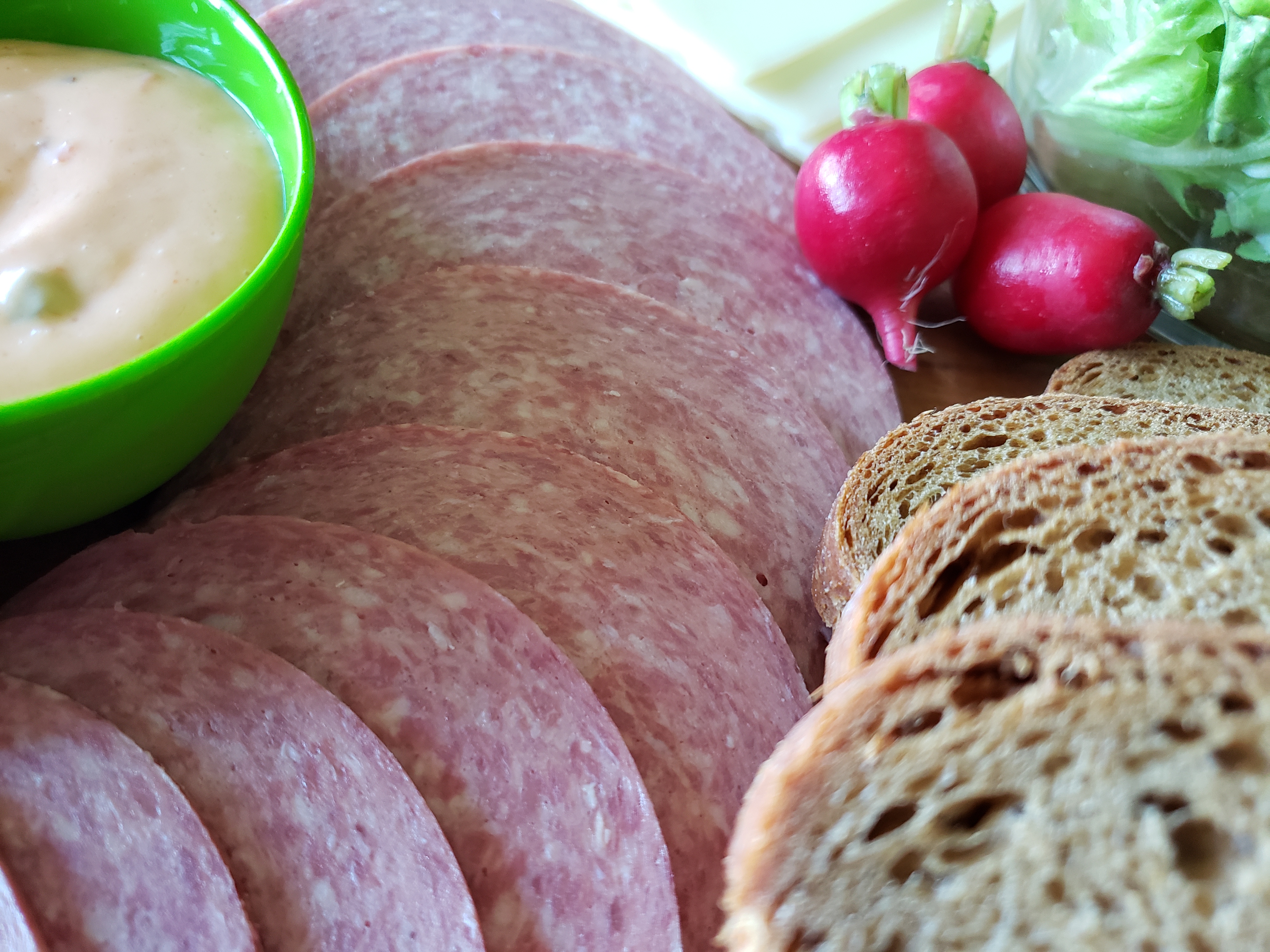 The Beef slicer is available in 2 sizes. The whole piece weighs in at about 7.8# or you can get a half which is about 3.6#. The Thuringer is available in the 3.6# sizing only. Our slicers are unique in that they come to you unsliced which allows you to determine the thickness of your cut. This is pretty easy to achieve, especially if you have an electric knife. One or two slices and you have a great start to your next sandwich masterpiece. If bread isn't your thing, the meat slices roll up beautifully to be eaten as a snack. Now add a slice of cheese to this roll and top it off with an olive or two and OH MY - that's what I'm talking about!
"Still the best summer sausage I've ever had." KA
"This will make your mouth water. You will have dreams on how good it tastes and get up at night to raid the refrigerator to satisfy your taste buds." HJ
"Outstanding product for a sandwich or a snack." J
Did you know you could freeze this summer sausage for up to 6 months? It's an opportunity to have sausage for a sports season or the picnic season (which in WI is only a few months) unless you like to eat outside in the cold. If it were me, I would choose an indoor picnic when the weather is too cold to be outside.
"Brings back memories at my grandfather's store in Chicago. Hard roll, American cheese, mayonnaise, Busch summer sausage and an ice cold Old Style beer. Jays potato chips too." CG
So there you go, a little bit more information about the Busch product line loved by so many. I can't wait to hear your feedback and see your pictures. Until next time…
Enjoy the day,
Karla