Welcome back! As I'm sitting here, the temperature is 78 degrees and people are in shorts walking, talking, and enjoying a beautiful day. The trees are full of green leaves, flower beds are blooming, and the water is splashing on the shore. Summers in Wisconsin can be short, but they are sweet. We enjoy the extra "nice" days for sure.
School is back in session. Some are studying at home, some are in person, and others are doing a bit of both. Before long the lawnmowers, sprinklers, and swimsuits will be put away. Soon we will see neighbors pulling out rakes and piling up leaves at the curb for removal, while others will burn them. The scent of fall and the close of another summer season is just around the corner.
Time is on the move and you know what is next. If whisper it, will it be easier for you? Winter - there, I said it and it will be here before we know it. I sure hope you look forward to the final season of the year. I'm guessing there have to be a few of you. Unfortunately, that is NOT me. I don't like the cold and for some reason, I don't think the cold likes me either. We just have a mutual agreement to tolerate each other.
Regardless of the temperature, I do enjoy the "things" that come with the winter in Wisconsin. I always love the look of clean white snow (through the window that is) as to me, it's very pretty. I love the sight of a fire in the fireplace. Flip a switch or light a match, the flames of a fire relax me. So as I'm sitting there in front of the fire enjoying the view, I also enjoy a nice snack. You know what I'm talking about - a plate of aged cheddar, a few grapes, and some slices of summer sausage. Usually it's Silver Creek's garlic beef, since garlic is my preference. All that goes well with a glass of red wine and my knitting. I'm generally working on hats, knitting for chemo patients or the homeless. It makes me feel good to give back for all the things I've been gifted.
How about you? Do you like to give gifts? Today we are going to chat a bit about holiday gift giving and our gift boxes. (1) Over the years, I've learned that the gift of good food is really appreciated. Silver Creek makes giving easy, but even better than that, the gifts we prepare always bring favorable comments. People love our summer sausage, but who could blame them? You know we craft everything the slow, old-fashioned way. The cuts of meat and spices used in our summer sausage are top notch. We don't believe in saving a few cents or cutting corners on our ingredients that would short change you in quality and flavor. Nope, our founder, Bill Kramlich Sr. set the standard and we have continued with that tradition for over 30 years.
I hear it all the time and maybe you do too, "You just can't get good summer sausage in other parts of the country like you can get in Wisconsin." Well, it's true, the craft of making summer sausage is a time honored tradition. We believe in order to make a superior product, you need to use superior ingredients. Chemicals, fillers, and low grade meats are not the path to quality and flavor. Our summer sausage is more about what we leave out, than what we put in. The texture of our sausage is unique in that it has a coarser grind. The particle definition/chunks of tight knit particles give us that "old-fashioned" look and texture. When you bite into a slice of our summer sausage, it's firm. Not soft, mushy, and greasy - YUCK! So when I give gifts, I really prefer they be something the recipient will appreciate and enjoy. To me, if I'm spending my hard earned money, I better get some quality to show for it!
This year you should consider one of our gift boxes. We keep it simple and right to the point with three sampler box choices:
Silver Creek Specialty Summer Sausage
Silver Creek Wild Game Summer Sausage
Jim's Blue Ribbon Summer Sausage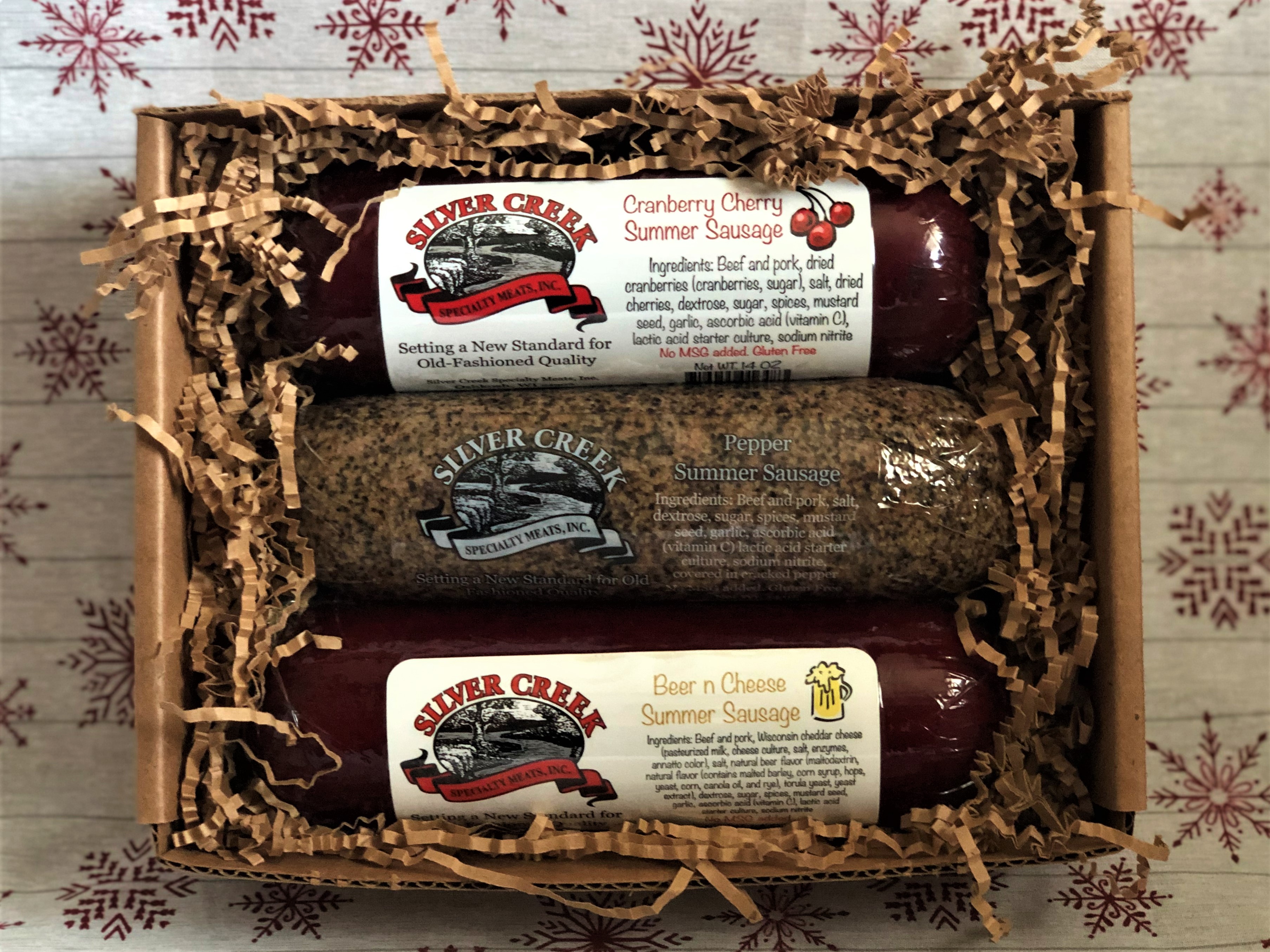 The Silver Creek Specialty Summer Sausage Sampler is a variety of Wisconsin flavors all in one box: Cranberry & Cherry, Beer N Cheese, and Cracked Black Pepper summer sausages.
Have you tried our Cranberry & Cherry summer yet? No! Wow, you are missing out on a unique experience. We blend Door County cherries and Wisconsin cranberries into this sausage. You may be thinking this sounds strange, "Fruit & meat? I'm not so sure about that."
One of the great things I get to do is surprise people with how tasty our products are. This summer sausage isn't "sweet." It's a mild sausage with complimentary seasonings. The cranberries and cherries give a hint of tart and sweet without being overpowering. Now just wait until you slice into this. Foodies love the look of this on a party tray. The cranberries and the cherries give you a smatter of color here and there. You can actually see the fruit. It's real, not artificial.
When I say Beer N Cheese, I think of the perfect Wisconsin pair. One of the great things we do is use real aged WI cheddar cheese. Anytime we use cheese in our products, it's always WI aged cheddar. No processed cheese here, just the real deal! You can see the cheese when you slice it. You may be wondering what beer we use in this sausage. Well, the use of liquid beer would get "lost" in the sausage making process. Believe me, I've had plenty of brewers ask to have their beer used in our sausage, but the truth is, you would be disappointed. The flavor wouldn't be there. As you will see on the label, we use a beer flavor that actually "stays" with the sausage through the process. So, if you are under 21, no worries, this sausage will not be a problem to eat. We have no "under-aged" issues here. Eat & be merry!
The Cracked Black Pepper, is a personal favorite of mine, and it's amazing! I may be biased, but as I've sampled it out to many, many people, the feedback is always positive. They fly off the shelf. The tang of the black pepper is just an outstanding complement to our blend of meat in the sausage. If you like black pepper, you will LOVE this summer sausage!
So there you go, 3 chubs of summer sausage each weighing in at 14 oz. Almost 3 pounds of love to share. Get two and enjoy one for yourself.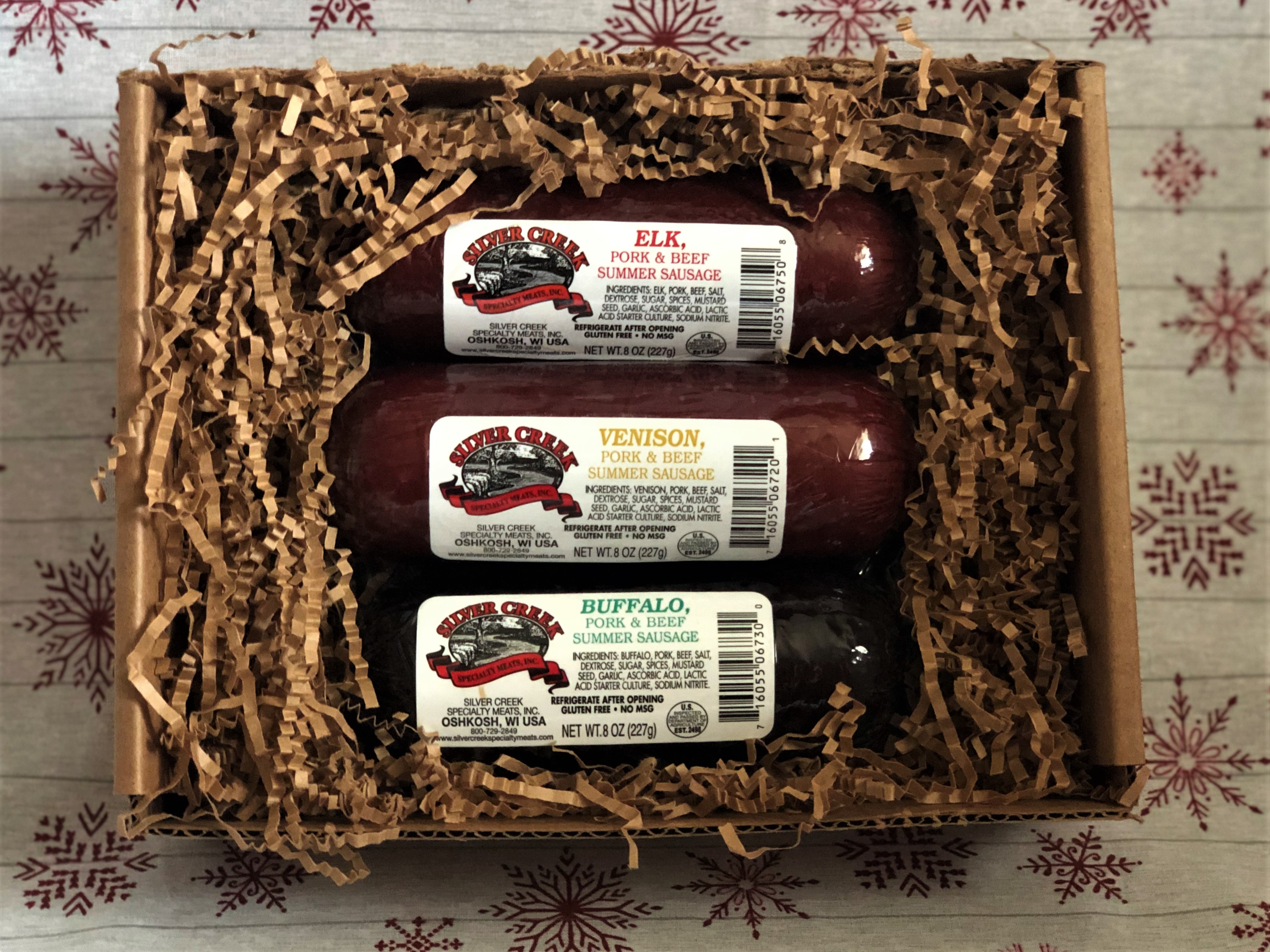 On to the Silver Creek Wild Game Summer Sausage Sampler. Open this treasure and you will find three types of wild game summer sausage: Elk, Venison, and Buffalo each is blended with a bit of pork and beef. These cuties are perfect cracker toppers. When sliced, the 8 oz chub is just the right size for a butter cracker. The unique thing about these sausage is that they don't taste "gamey." We craft them with the same quality meats and spices as you will find in all of our products.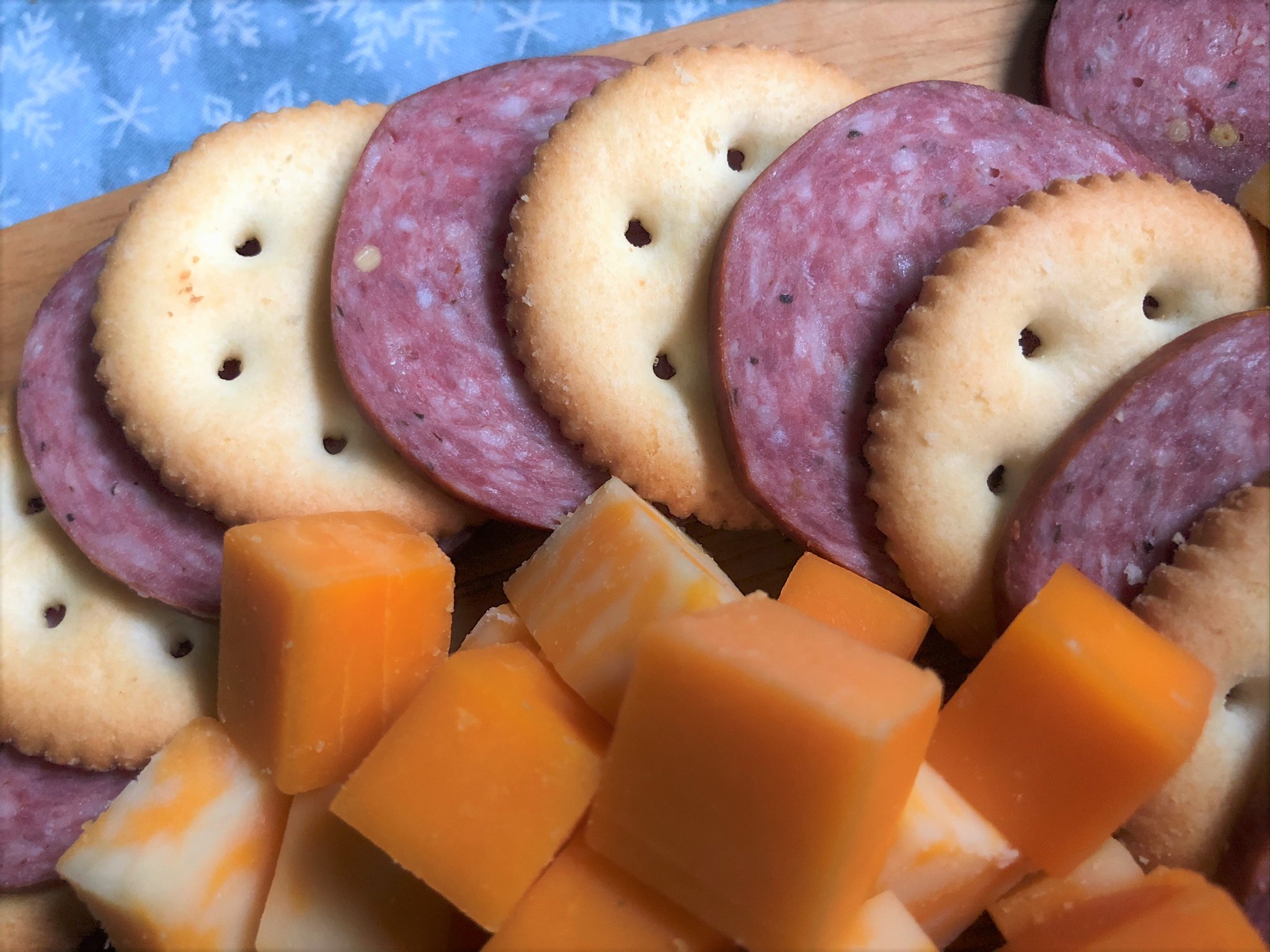 "Setting a New Standard for Old Fashioned Quality" isn't just our motto, it's our way of life. Hardwood smoke is key in our summer sausage making process. The use of softer wood will give the product a disagreeable flavor due to the sap, pitch, and tar in the wood. Hardwood was used by your great, great, great grandfathers. When this country was settled, the hardwood resources were plentiful and they used what they had - generally hickory. This is how the use of hardwood smoke got started. It gives a "clean smoke" which we still find pleasing today.
Our final gift box is a combo of Jim's Blue Ribbon Summer Sausage. Did you know that in 1990, Jim's Blue Ribbon was awarded the title of "World Champion" in Ghent, Belgium? We will talk more about this in my next chat, so stay tuned.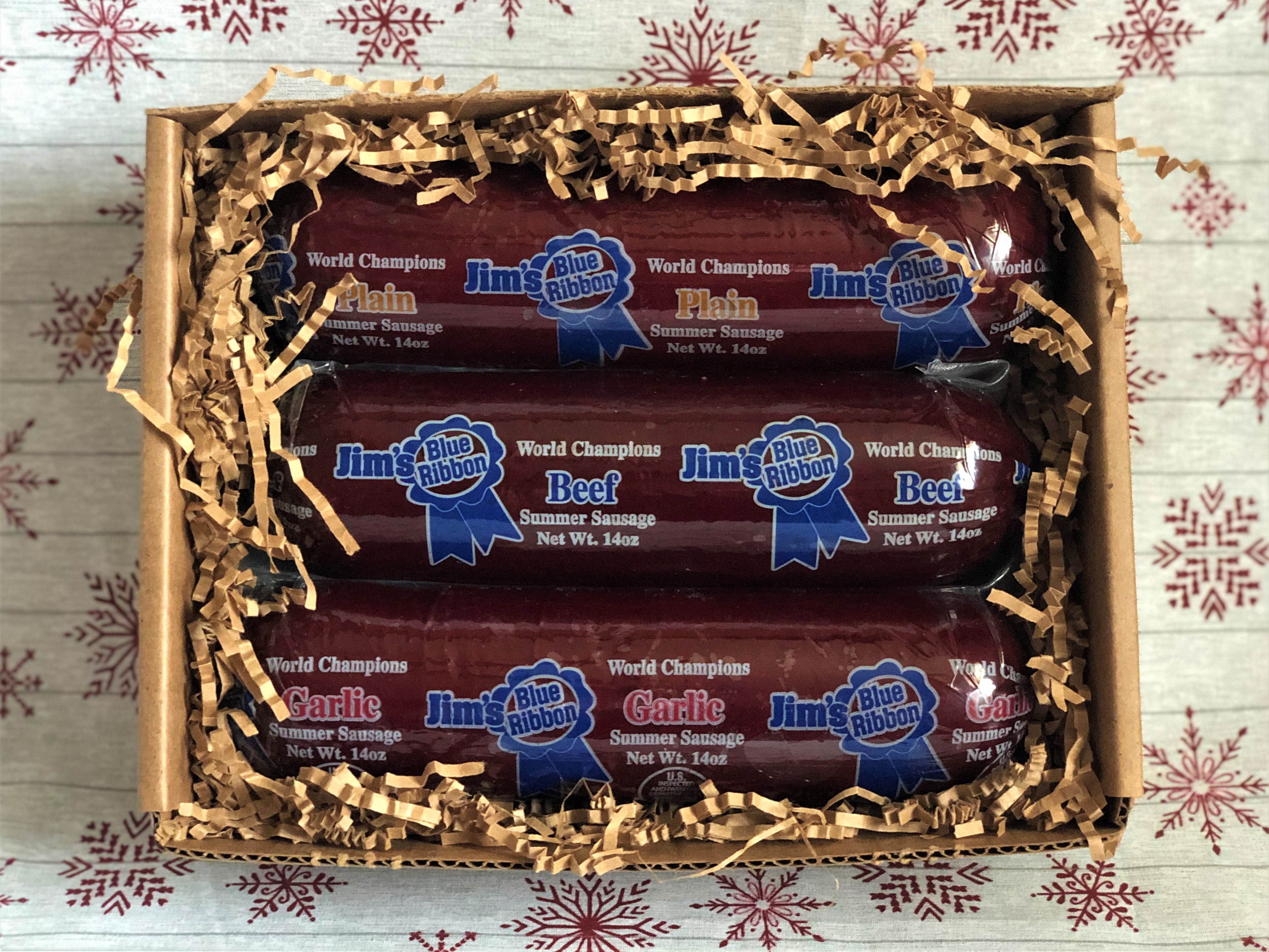 In this box you will find three styles of this Award-Winning summer sausage: Beef, Garlic, and Plain. Beef is just that, an all beef summer sausage. Both the garlic & plain are a beef and pork blend. I might have mentioned it before, but garlic always gets my vote. I tend to like stronger flavored foods like molasses, black licorice, and dark chocolate. The darker, the better is my motto when it comes to chocolate.
We acquired Jim's Blue Ribbon in September of 1993 and still make this product the same way. Check out the review on our website. Over and over again, this product is a winner. Like I said, we will chat more about Jim's Blue Ribbon next time, but for today, rest assured that this gift is one you will also be proud to give.
So there you have it, some great gift options. Keep gift giving easy, shop online. You are only a few clicks away and we will even ship the gift for you with a handwritten message of your choice on a festive card. One less thing for your "to do" list.
Well, the temp moved up to 80 degrees now. The sounds of summer are still all around me, so I better take some time and enjoy them. Thanks for spending time with me, I sure enjoyed it. Until next time...
Enjoy the day,
Karla
Link: Gift Boxes