Hi there and welcome back. I sure am looking forward to chatting with you today!
I'm in the mood for some "comfort food." How about you? One of my go to comfort food choices is a toasty grilled cheese and sausage sandwich. You know the kind where the cheese is melted just so and when it's pulled apart the cheese stretches out in a lazy droop? Well, now add a slice of summer sausage to that vision. The flavors blend together and my stomach fills with anticipation.
Grilled cheese sandwiches don't have a "season" in my house, we enjoy them all year long. Do you feel the same way?
Grilled cheese and I go way back. When I was a kid, one of my favorite meals was a grilled cheese and summer sausage sandwich. That golden brown, toasty bread surrounding the blend of gooey cheese and tasty sausage - it takes me back…
Not a lot of time? No problem, a quick meal for sure. Generally it's an easy meal with kids. I remember pulling out the cookie cutters and making grilled cheese shapes for our daughter. Even cutting the sandwich into four triangles was fun. Not fancy, but simple & tasty.
While I'm sitting here thinking about some of my favorite cheese and summer sausage combos,a question popped into my head. "Why do they call it "summer" sausage?" I mean, what a funny name for something you can eat all year long. Summer sausage isn't just a "summer" food in my house, so I did a bit of digging.
Summer sausage is an American term for any sausage that can be kept without refrigeration until it is opened. (1) Makes sense, back in the day when this was developed it could be stored in the warm summer months without going bad. The summer sausage we craft at Silver Creek Specialty Meats has a shelf life of 9 months from manufacture. It doesn't require refrigeration until you break the seal.
Generally summer sausage is a beef and pork blend that is dried or smoked. Our summer sausage is a semi-dry sausage. It doesn't have the softer texture of a ring bologna and it's not hard like a salami. We use a great blend of spices and hardwood smoke in our sausage making process. Traditionally, summer sausage is a fermented sausage with a low pH to slow the bacterial growth and give a longer shelf life, causing a tangy taste. (1)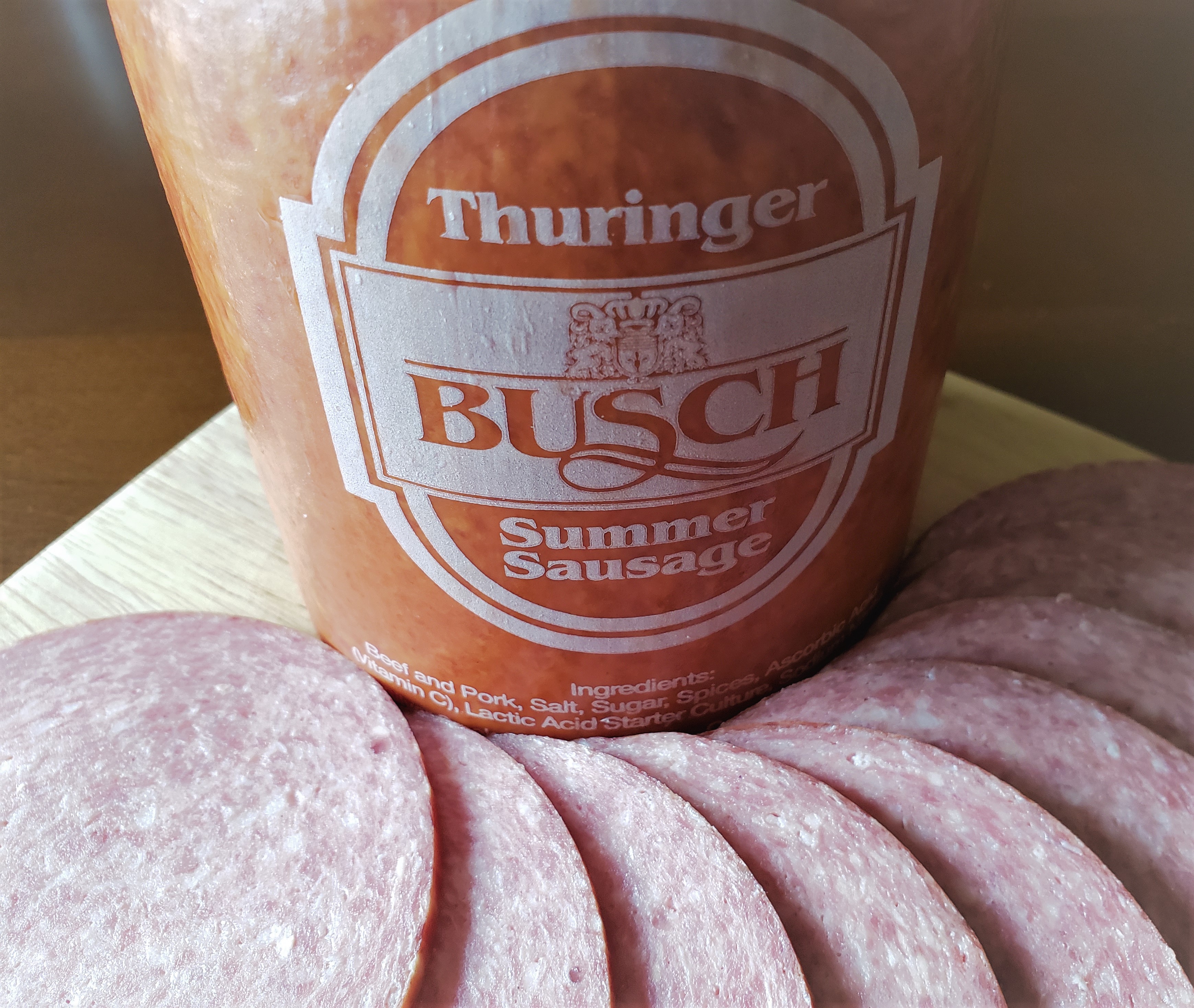 There are so many varieties of summer sausage available. I'm going to talk about our "slicing" summer sausage today. It's made for sandwiches with a bigger diameter than our other summer sausages.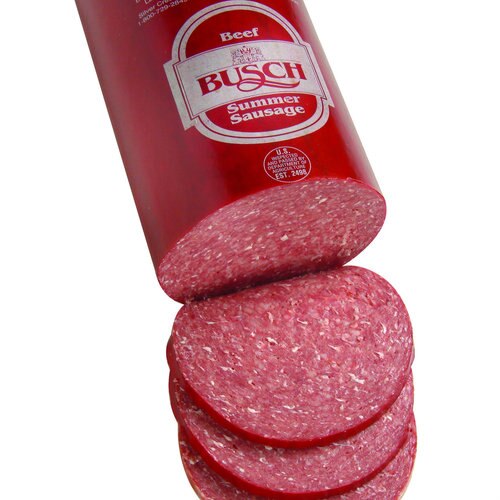 There are two "slicer" types in our Busch product line: All Beef Summer Sausage (2) and Thuringer Summer Sausage (3) , which is a beef and pork blend.
Silver Creek Specialty Meats also produces two types of Jim's Blue Ribbon slicing summer sausage (4) . Plain or garlic variety, both are a blend of beef and pork.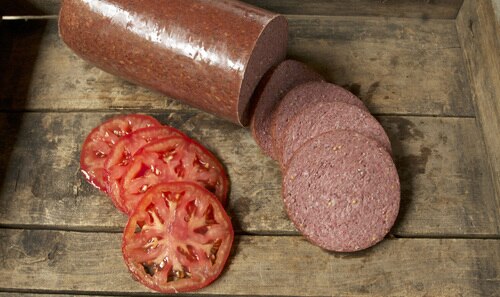 In the future we will talk more about our wild game summer sausage and other specialty sausages, but let's get back to grilled cheese and sausage sandwiches.
I LOVE that this is such a flavorful option without spending a ton of time in the prep work and making of my masterpiece. The ingredients are pretty straight forward: bread, cheese, and summer sausage. If you want to "beef up" your classic favorite, I have a few ideas.
A word about bread - YUM!
Seriously, if you are going to enjoy this classic - pick a bread you love. Will it be white, wheat, sourdough, 9 grain, marble rye, or pumpernickel?

Next, bring on the CHEESE.
You do know that I'm a Wisconsin girl and cheese is a "food group" right? It is so great to stop at the deli counter and have them slice the cheese for me. I'm not the best with a knife and this way I get to have a variety of cheeses cut up for me. You definitely can pick up pre sliced, but I like to talk, and the deli person is a captive audience even for a few minutes.
So, what will it be? Sharp cheddar, colby, mozzarella, pepper jack, marble, or Swiss? So many choices, so little time…
We are now going to complete this creation, but there is one item missing for sure! Do you know what it is? Of course, summer sausage!
I don't know about you, but I'm going for the Jim's Blue Ribbon Garlic Summer Sausage, colby cheese, and pumpernickel bread. Just thinking about the tang of sausage and the gooey melt of cheese between that toasty bread is making my stomach rumble. I can't wait for dinner!
There are a few variations I like to make from time to time like adding a slice of tomato. The color gets me every time. The texture of the tomato blends with the flavor of the sausage and oh man, it's fabulous.
There are times when I'll sprinkle a little oregano and basil over the cheese. When the cheese melts and envelops the spice, the sausage takes on a bit of an Italian flavor. A nice twist on a classic.
Every once in a while a few thin slices of onion will find their way into my husband's portion.
One last combo, let's go for the gusto!
Marble rye, pepper jack cheese, a slice of tomato, a bit of spinach, and Busch Beef Summer.
So there you have it! Once again, not fancy, but simple & tasty.
I can't wait to hear about and see pictures of your creations. Until next time…
Enjoy the day,
Karla Powell
Resources: