When you think about summer sausage, what comes to mind? Maybe the first vision you have is a slice of summer sausage on a cracker with some cheese for good measure. Maybe thoughts of the hunting cabin come into view. Maybe you think about a nice summer day and a picnic.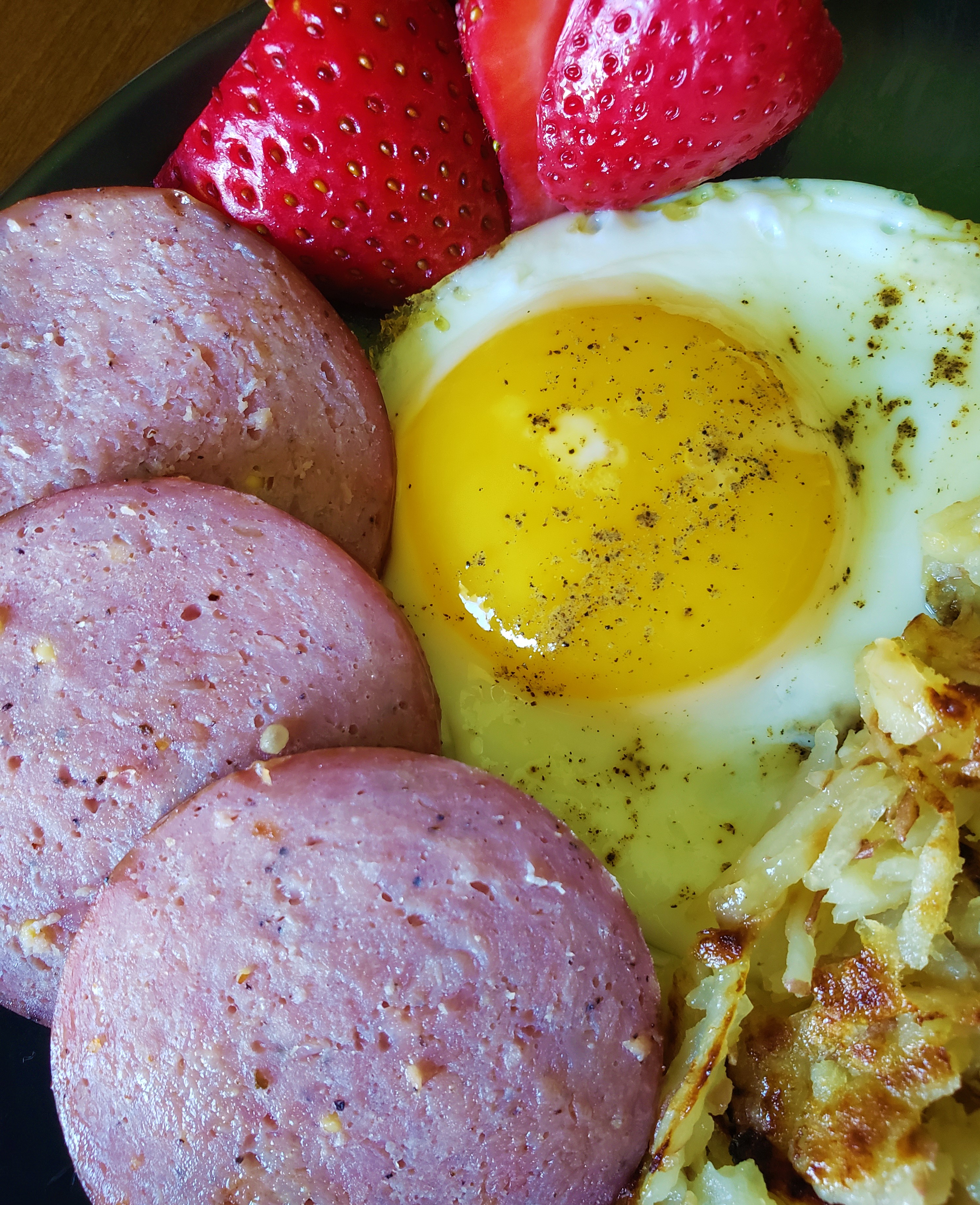 Those are some great visions, as I have them too. However, today I thought it would be fun to look beyond the "normal" or "common" ideas and push forward into something different. Let's see where this takes us shall we? What better place to start than breakfast. Sausage for breakfast may seem a little "normal." You know like sausage patties or sausage links, but how about summer sausage? Now, this is what I'm talking about. If you haven't tried it before, a slice of summer sausage warming in the pan next to your eggs is a pleasant sight. Silver Creek's Turkey Summer Sausage is the perfect combo with eggs. It's lean and oh so tasty. Enjoy 100% turkey blended with a unique spice combo that is finished with hardwood smoke. All of these things work together to give this breakfast meat its flavor. Since it's so lean there isn't a greasy mess in the pan. Slice it to your desired thickness and enjoy with eggs, hash browns, and maybe some fruit for balance.
A breakfast sandwich is a great way to eat on the run if necessary. Whether you prefer toast or an English muffin, you can create a quick, satisfying meal. Another option is to prepare a few of these and freeze them for the days that seem to have less than 24 hours in them. This is how I operate, make one mess and be done with it for a while. If I'm going to fry 1 egg, I may as well fry 6 or 12. If I'm going to pry apart 1 English muffin, it's just as easy for me to open all of them and form an assembly line. So here's my idea…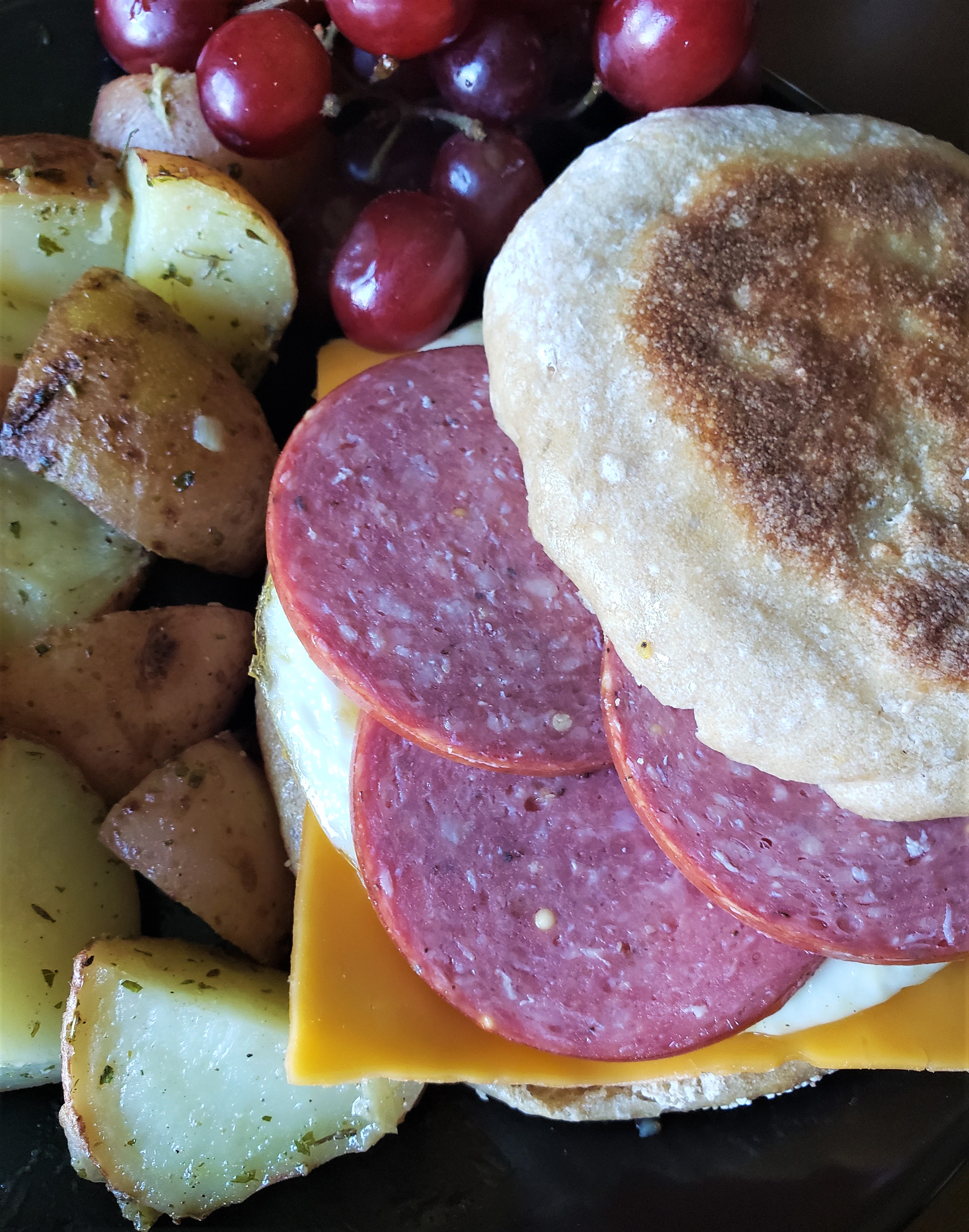 Toast and butter the muffin or toast, then set aside for a few minutes. Slice up your summer sausage. Here I really enjoy using our Silver Creek Venison Summer Sausage in the 1# chub size. It has a nice diameter to cover my bread and 2 slices are even better! Set the meat aside for a moment and let's get the eggs going. I pull out my large fry pan and start frying eggs. When the eggs are done, I place them on one piece of the muffin/toast. As you may recall, I'm a cheese girl, so now is the time to add a slice of cheddar cheese to the top of each egg. I'm guessing your pan is still hanging out on the stove, so now is a great time to warm up the summer sausage. You won't want the heat up too high, just medium to warm the meat nicely. Place your sausage on top of the cheese and cover your creation with the other piece of muffin/toast. If you like spinach, then add a layer of spinach on top of the sausage before closing it up with the muffin/toast. I wrap each sandwich up individually in wax paper and put them in a container for the freezer. Now just pull out one sandwich at a time as needed.
When you are ready to eat, take it out of the freezer and microwave. I like to defrost mine overnight in the fridge. This helps things go a bit smoother in the morning. I just pop it into the microwave and I'm off to the races.
Scrambled eggs are great with chunks of summer sausage in them too. Just add bite sized pieces to the egg mixture right away so the summer sausage warms while the eggs cook around it. The seasoning from the sausage adds a nice flavor to the eggs too. Scrambled eggs with a flare. Sprinkle on a little shredded cheese and serve with some crispy home fries and toast.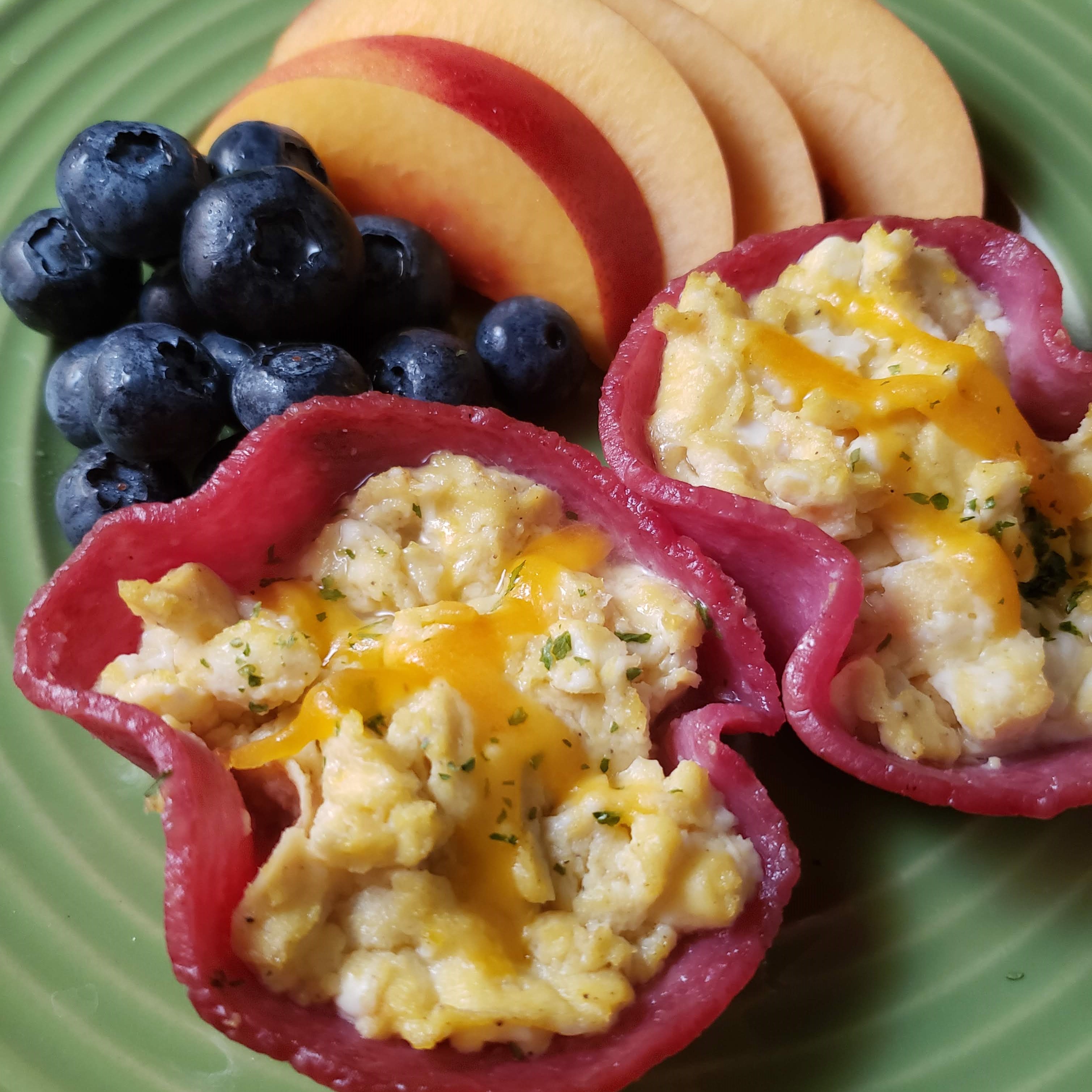 Did you know we have summer sausage that is sandwich size? Absolutely! We refer to them as slicers. Jim's Blue Ribbon, Busch Beef, and Busch Thuringer all are available in this larger diameter size. Something that caught my eye while surfing the net one day was a picture of eggs in a "nest" of ham. "Well," I thought, "there's an idea" so I modified the recipe to fit our products. Click here for the recipe idea, but it's pretty simple. Slice the summer sausage to a thickness that is flexible, but not too thin. You don't want to be able to see through it. The sausage needs to be thin enough to "fold" into each muffin cup. Scramble and cook the eggs. When the eggs are ready, use a tablespoon to scoop eggs into the sausage. As you fill the sausage, press down gently to fit the sausage into the muffin cup. The eggs will be "nested" in the sausage. Place in the oven at 350 for about 5 minutes, keeping an eye on them so they don't over bake. Pull out the pan and sprinkle the tops of the eggs with shredded cheese and a bit of parsley if you like. Return to the oven so the cheese can melt, which will take another minute or so. Serve warm.
So there you go, a few quick and tasty options for breakfast. I hope when you think of summer sausage, you will have new visions dancing in your head. As always, a picture of your creation would be appreciated along with a few of your suggestions.
Stay tuned for some lunch or dinner ideas. Until next time…
Enjoy the day,
Karla