It's that time of year again. As I'm sitting here by the river, so many things are happening. The wind is blowing and the leaves on the trees are rustling. The water is moving pretty fast too. I can hear kids playing in the yard and birds overhead. Wait a minute, what did I just see? A school bus? How is that possible? It can't be time for school to start already, but yet, there it goes.
Like most things, it's best to prepare for coming events. I guess they are out testing the buses, checking routes, making sure things are set to go as schools start to open in the next few days or weeks from now.
I know this year has been a bit strange. I'm experiencing it right along with you. Life changed, work changed, school changed, and even shopping has changed. I doubt we will soon forget the challenges of 2020, but hopefully you can balance the challenges with positive times too. Me, I've learned to enjoy the simple things of life. Not being on the road traveling for work has given me a new appreciation for being home. What a pleasant surprise and I get to chat with you!
When our daughter was in school, snack time was a fun time. I think it was more fun for the kids than myself though. It was a time to prepare snacks for a bunch of kids. Questions like, "Will they like this? Will it be too messy? Is there too much sugar in it that will cause the kids to bounce off the walls and earn a call from the teacher?" all come to mind when I think back.
Seems silly now, but it was real then. Snack time at school is one thing, but when they come home, the kids always seem to be "starving!" So many things to do tonight, how can I keep them happy until I have time to get dinner ready? Ah, memory lane…
Well, back to 2020. You know regardless if the kids are attending school in person, online, or a mix of both, snack time and after school snacks still apply. Silver Creek has been crafting snack time treats for over 30 years and the best part is they aren't full of sugar. Yes, we do use sugar in the majority of our items, but it gets "eaten" up in the sausage making process. Our snacks actually are low in carbs and we offer lots of variety. We keep things pretty simple and stick to the old fashioned art of sausage making. You will find all beef summer sausage, as well as 100% turkey options. We use a blend of pork & beef when crafting our elk, venison, and buffalo products. All specialty sausages start with a beef and pork base, then each item is given it's unique "flavor." There is nothing mysterious about crafting quality products. When using high quality cuts of meat and ingredients, excellence just follows.
If you are looking for a backpack snack, we have some single serving ideas. Both Silver Creek Naturally ( 1) and Jim's Blue Ribbon Hot Rods (2) are available in single serve/2 stick packs.
Silver Creek Naturally offers four varieties of meat snacks without any preservatives. We use grass fed beef, venison, and turkey. The beef is available in plain or jalapeno. I know everyone has a different "spice meter," but our jalapeno sticks are flavorful, not frightening. The venison is a red deer from New Zealand that is mixed with a bit of grass fed beef. Four amazing portable protein snack options!
Silver Creek Naturally, as well as the rest of our products, contain no MSG. They are gluten free too. In fact, other than our Beer N Cheese sausage and sticks, all of our products are gluten free.
Another classic snacking option are our Jim's Blue Ribbon Hot Rods. Don't let the name fool you, they come in plain and jalapeno. So if you like mild or wild, we have you covered. These sticks are available in 2 oz packs, but depending on your family's needs, you can get them in an 8 oz or 5 lb sizes too.
Hot Rods are also unique in that they are available in packs of ends and pieces. Ends and pieces are the same product as the sticks, but when you make a "perfect cut" stick there are left over ends. A few broken sticks find their way into the ends and pieces pack too. This is a great way to cut down on waste and you benefit in the bargain.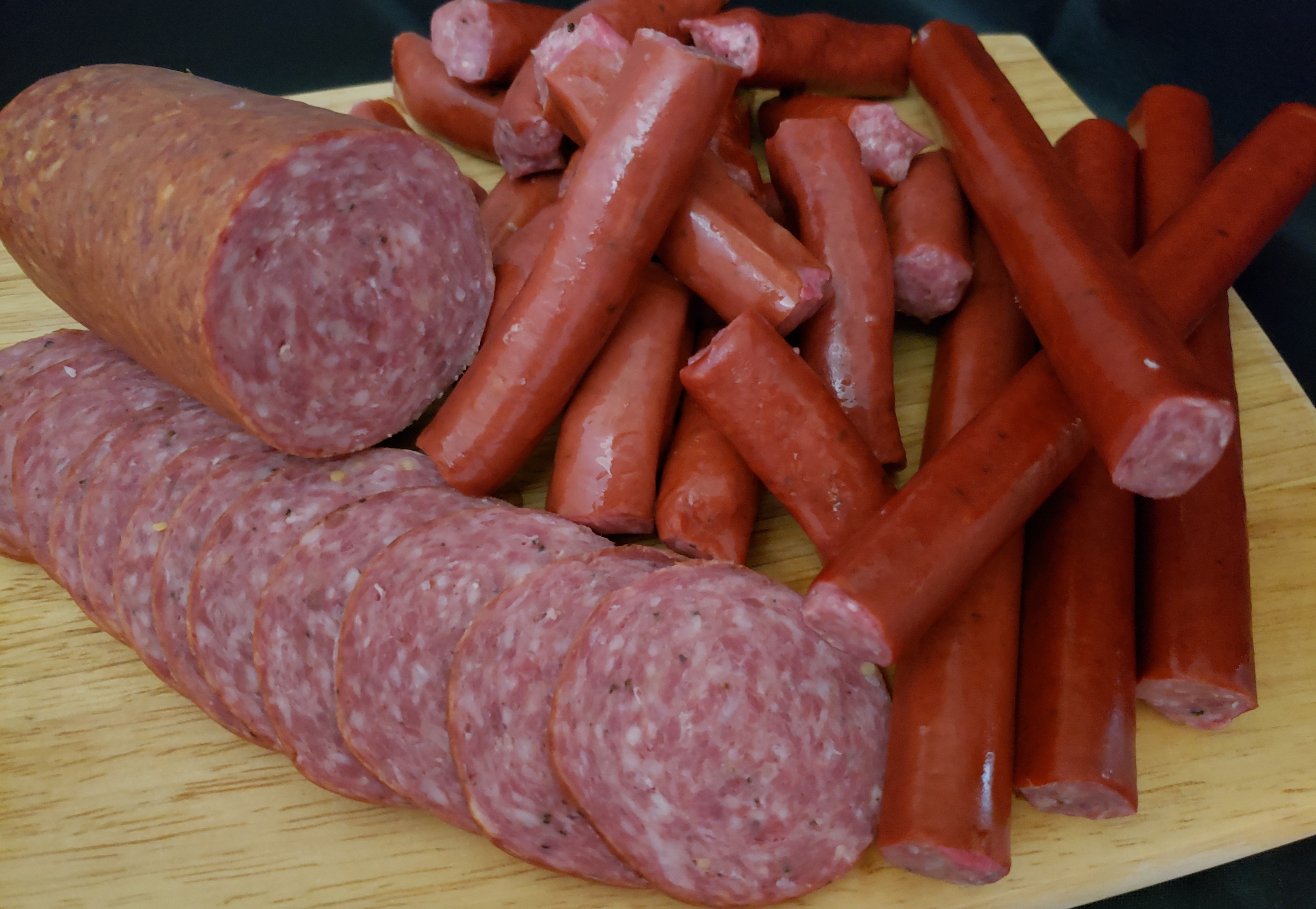 If you enjoy meat sticks, but want a bit bigger package, our Silver Creek elk, venison, and buffalo sticks ( 3) are available in 7 oz packs. This is a great size for a few kids to munch on. The unique blend of spices and hardwood smoke add to the delight of snack time. Wild game sticks also are a "perfect cut" product, so you guessed it, there are ends and pieces available in 8 oz packs for these too. Just enough to share or not.
I don't know about you, but there is just something fun about eating ends and pieces. It must be the surprise of what you get. It might be a piece that is about an inch long or maybe it's about 3 inches in length. You might even get the one with a curve or bend. "Irregular" can be fun, so enjoy the adventure.
There is one more snack stick to tell you about and that's our Beer N Cheese stick. Not to worry, you don't have to be over 21 to eat them. There is NO alcohol in these sticks, just a beer flavoring. Real beer doesn't "hold up" during the sausage making process and you wouldn't be able to taste it. What you will see though, is the Wisconsin Cheddar cheese. It's not a game of hide & seek, the cheese is clearly visible. We only use aged Wisconsin Cheddar cheese when we add cheese to our products. It's the real thing, not processed. As a girl from Wisconsin who LOVES cheese, this is a truly pleasing snack.
Did you know our sausage and snack sticks are portable? You don't need to refrigerate them until the seal is broken. So if you want a quick snack - the single serve sizes are perfect. If you have a couple of kids or grandkids, the larger sizes are a great option too.
As you know, we craft specialty meats and offer a wide variety of summer sausage that are also great for snacks. Slice some and have it ready when you or the kids need a snack. Pair them with cheese, fruit, crackers, or pretzels. Summer sausage is a versatile treat.
Something Silver Creek has done well over the years is craft quality products. We have our own Silver Creek product line that offers an all beef summer sausage, which is available in 3 sizes ( 4).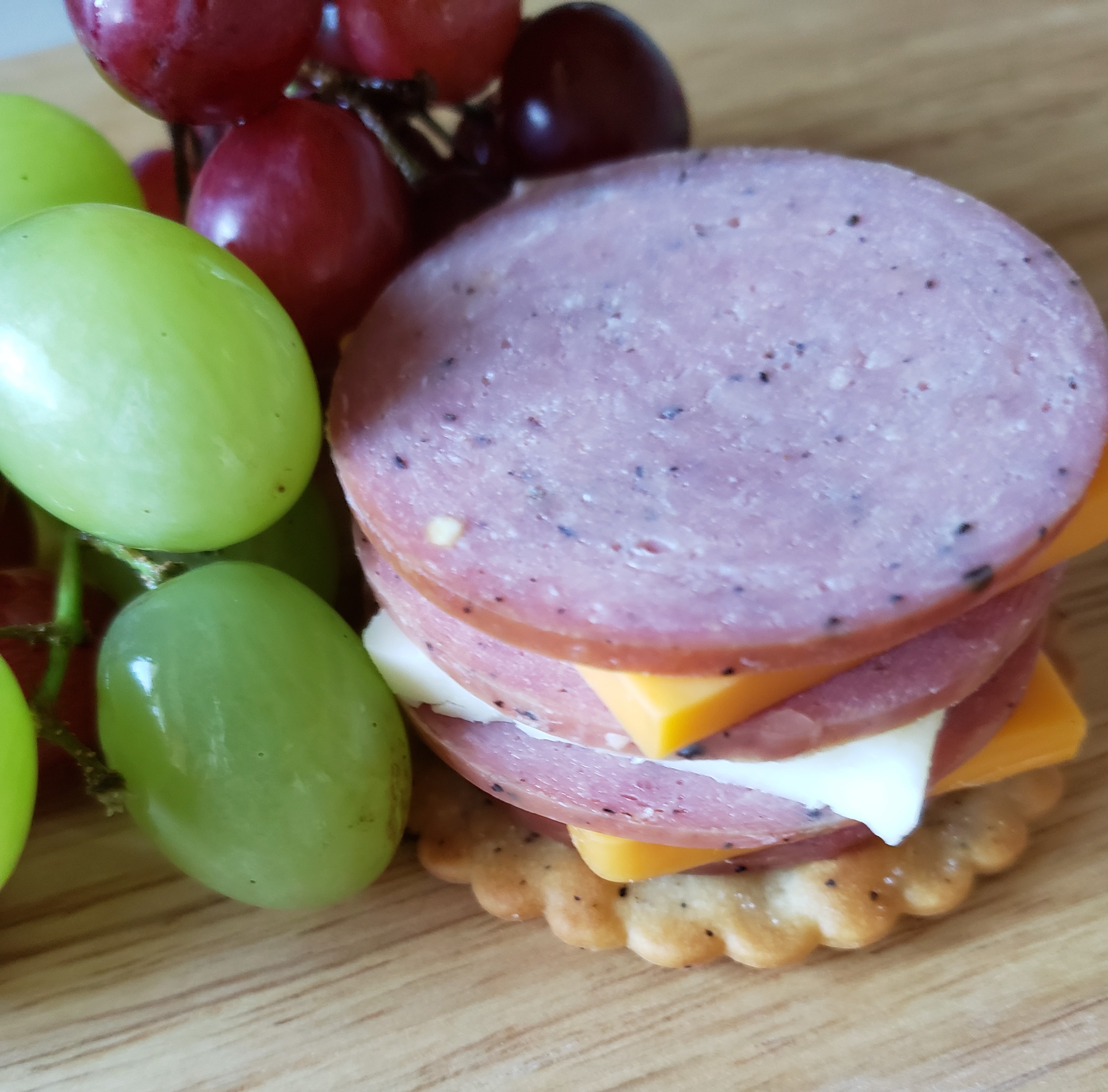 If you are looking for a "non" beef product, there is a very tasty, all turkey summer sausage that is lean, flavorful, and fabulous! Did you like the sound of the wild game sticks? You can get that same elk, venison, and buffalo in a sausage too.
One of my favorite "specialty" summer sausages is the Cracked Black Pepper. When you are trying to help them with homework, this is a great opportunity for you to snack too. This cracked black pepper covered summer sausage has a great black pepper tang. Definitely an upscale snack.
Want a little color on your snack tray? The Cranberry & Cherry summer sausage will do just that. You will get a burst of red from the Door County cherries and Wisconsin cranberries that are blended in this unique treat. It's not a "sweet" sausage, but a tasty WI blend.
Hukki is our last specialty summer sausage under the Silver Creek label. This sausage puts the "fun" in snack time. The outer bubble effect caused by its netted casing, gives the appearance of a flower when it's sliced. Have some fun with shapes while you snack.
Over the years, Silver Creek has added a few companies to our family of products. Jim's Blue Ribbon came to us in 1993. The Jim's Blue Ribbon line offers three options, plain, garlic, and an all beef summer sausage. In 2002, the Fred Busch sausage line joined our family bringing with it a Gottenburg sausage ( 5) that is available in both a natural casing or an artificial casing. When we acquire a company, we keep their label and recipe so we can continue to make the products the way you remember them.
As time goes on, I will chat more with you about each of these product lines, but this gives you a quick preview of what we offer at Silver Creek Specialty Meats. So there you have it, some ideas for snack time. I know we talked about the kids, but don't forget yourself. After a day of work, you need a break too. Snacking has no age limit, so eat and enjoy.
Well, I see those buses are still out prepping for a new school year. You can prep your snack pantry by shopping online at Silver Creek Specialty Meats. Best wishes to students and adults alike. Until next time...
Enjoy the day,
Karla
Resources: