History is full of amazing stories and today we will reflect on the timeline of events regarding the history of Silver Creek Specialty Meats and Jim's Blue Ribbon summer sausage. Shall we "walk and talk" our way through it? Great, let's get started!
But first a word from one of our customers: "Absolutely the best as always. I remember first getting this stuff as a little kid tagging along on family hunting trips over 40 years ago. Since then I have had it shipped all over the country to share with my friends and every time the response was where can I get it. Try some fried up for breakfast. It's awesome for that too!!!" D
Okay, full disclosure, this is a little before my time, but let's start in 1938 (1) as this is where the story begins. During this time in history the Fair Labor Standards Act established minimum wage which was $.25 per hour. There were some exceptions, but it was a start. Lawrin was the Kentucky Derby Champion, George and Ladislav Biro invented the ballpoint pen, and LeRoy Locker was born.1
Our story begins about 82 years ago in the small community of LeRoy, WI. There was a man who had a family and a plan. An idea sparked while James Weinburger Sr. was visiting a locker plant in Iowa. From there the idea grew into a family business. Having 8 boys in his family, James felt they needed something to do. In case you don't know, I'll save you the trouble of looking it up. A locker plant is a refrigeration and storage establishment consisting of quick-freezing equipment and storage lockers rentable for food storage.(2)
Fast forward almost 20 years to 1957 when Jailhouse Rock could be heard on the radio, Leave it to Beaver was on TV, and kids were reading "The Cat in the Hat" by Dr. Seuss.(3) This is also the year Norbert Weinburger returned to the family business and shortly thereafter, the family started making summer sausage. The sausage products produced by the Weinburger's were well liked and in 1964 the summer sausage received its first blue ribbon. This is when Jim's Blue Ribbon Sausage became "Jim's Blue Ribbon Sausage."
Years of awards followed leading us into 1990. This is the year when a LeRoy Locker sausage was chosen as "World Champion" in Ghent, Belgium. Not too shabby for a family business that started with an idea in 1938!
Well, the time came for Norbert to retire and Silver Creek Specialty Meats purchased the company in September of 1993. Jim's Blue Ribbon had a new home and we continue to craft this fabulous summer sausage.
Silver Creek Specialty Meats is also a family-owned and run business, with three generations in action. William (Bill) Kramlich Sr and his wife Dorothy founded our company in 1989 with the purchase of the meat division of R-Line Foods Inc. located in Ripon, WI. The family business is currently located in Oshkosh, WI and Bill's two sons, Bill Jr. and Tom manage the plant. A few short years ago, Katy, Bill's granddaughter, joined the business and the excellence continues.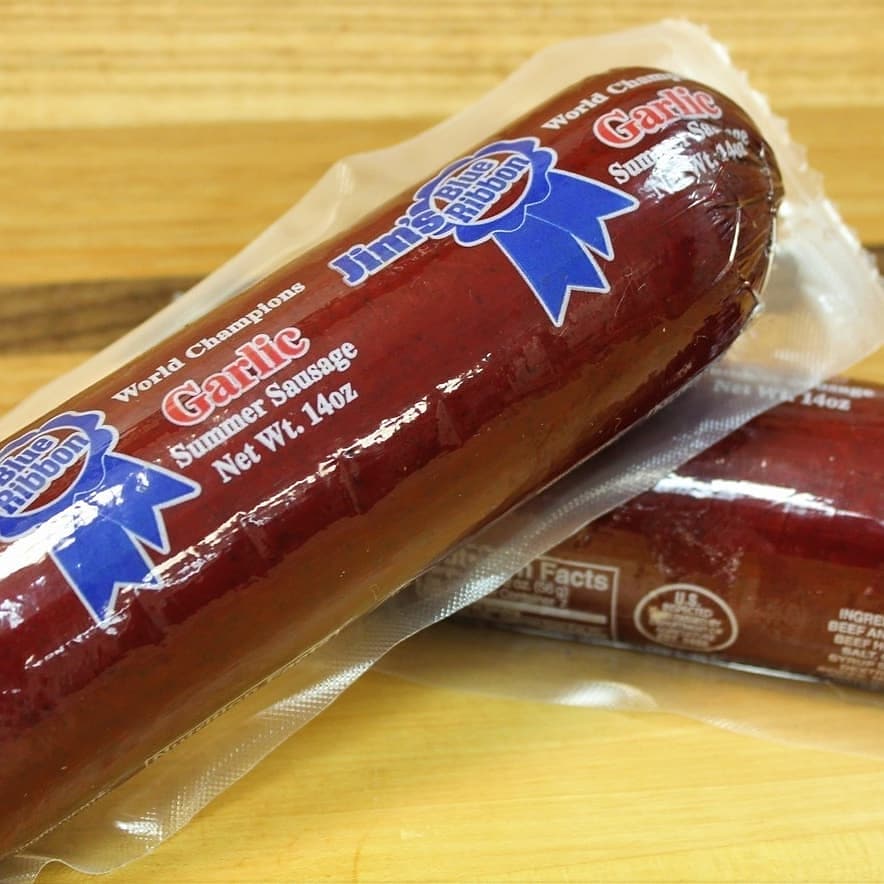 The Jim's Blue Ribbon summer sausage line offers three varieties: plain or garlic, each being a blend of beef and pork as well as beef, which is an all beef item.
"This is the best summer sausage. My wife and I have been enjoying this sausage in sandwiches for years. We add a little pepper jack cheese for a great sandwich. We take some with us when we go south for the winter. There is no sausage that I have found that is as good as this one." MB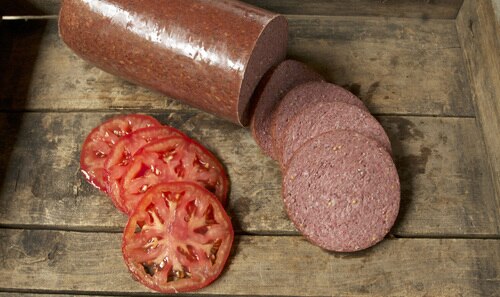 Now if you want to build an outstanding sandwich, the plain and garlic varieties are available in a "slicer" size, which is sandwich sized. This summer sausage weighs in at 4 lbs and you have the opportunity to slice it your way. Some like it thin and some like it thicker - you get to choose.
Jim's Blue Ribbon is amazing on a cheese tray. My personal favorite is the garlic summer sausage. All of the varieties have garlic, but this one is enhanced with even more garlic and it makes my taste buds sing.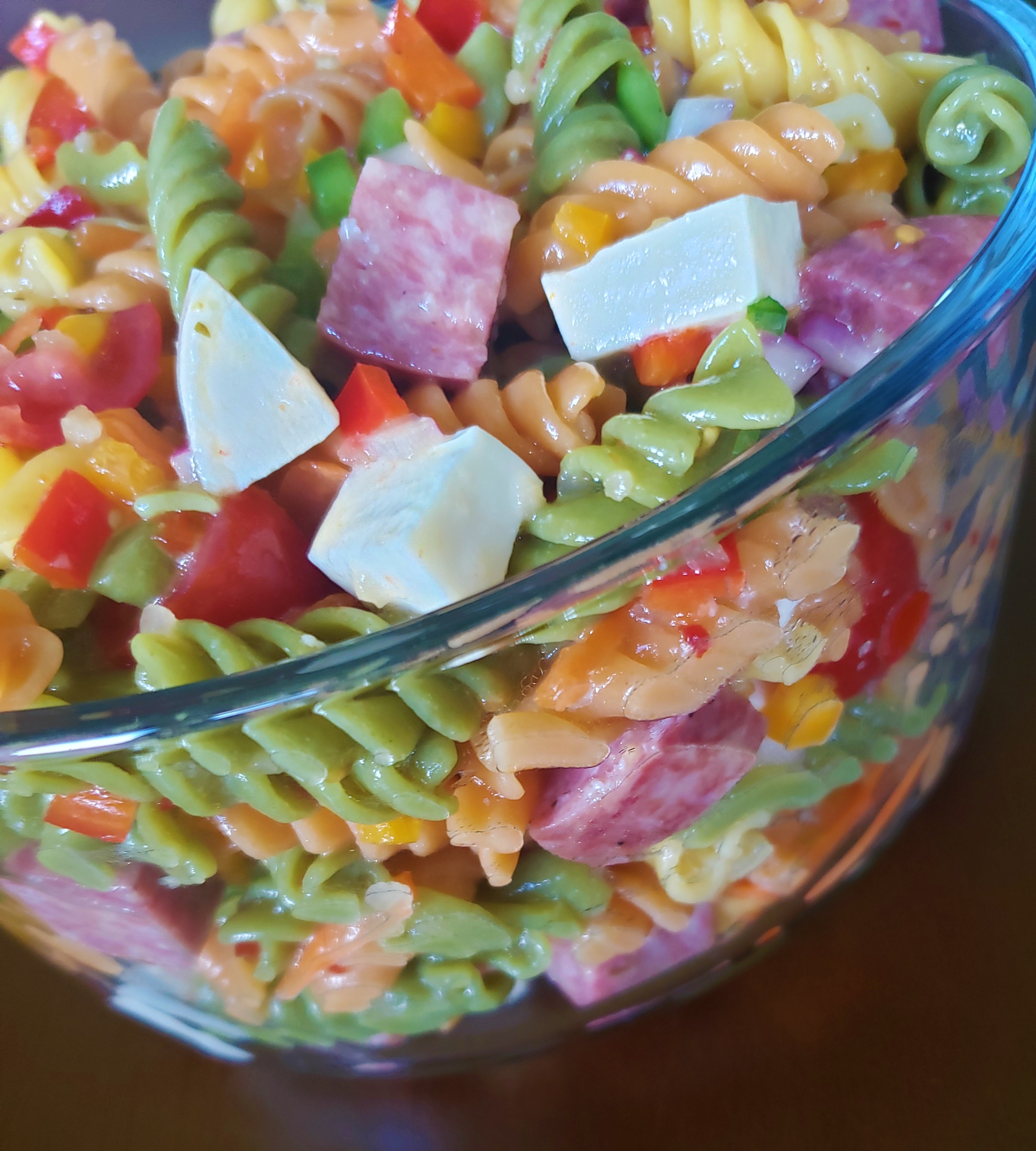 This flavorful summer sausage has a unique blend of seasonings and hardwood smoke that will keep you coming back for more. It definitely can stand on its own. Slice and enjoy! This World Champion summer sausage pairs well with cheese and crackers, so it's perfect for a party tray. Build a sandwich, add it to your grilled cheese, or dice some up for a pasta salad. This summer sausage is so versatile, your options are virtually endless. You will always get the award winning quality and taste enjoyed for over 60 years. How's that for history?
Even in the midst of COVID-19, we still have opportunities to entertain. Possibly you are hosting a small group at home or having a virtual party online. You will definitely want to serve your guests this summer sausage. Don't miss out on the opportunity to enjoy a summer sausage that has been loved by so many for so long. You know the holidays are coming, maybe you want to give a gift box of love. (4)
So there you have it. What started with the Weinburger family in 1938 continues on with the Kramlich family today.
A final message from a customer: "From Wisconsin and used to have meat processed by Silver Creek... Now in Connecticut... Paid much more for local sausage and found it to be substandard.... Did a search online and found that Silver Creek will ship ANYWHERE... Ordered some of my old time favorites... OMG... Just as I remembered it to be... EXCELLENT... Will now be ordering on a regular basis... Thank You…" WM
As for me, I'm not much of a history buff, but this has been a fun story to share with you. Until next time…
Enjoy the day,
Karla
_____________________
1 Ken Thomas, Meat Market Sold to Ripon Company (The Mayville News, September 2, 1993 front page)
Resources:
3. Back in 1957
4. Gift Boxes