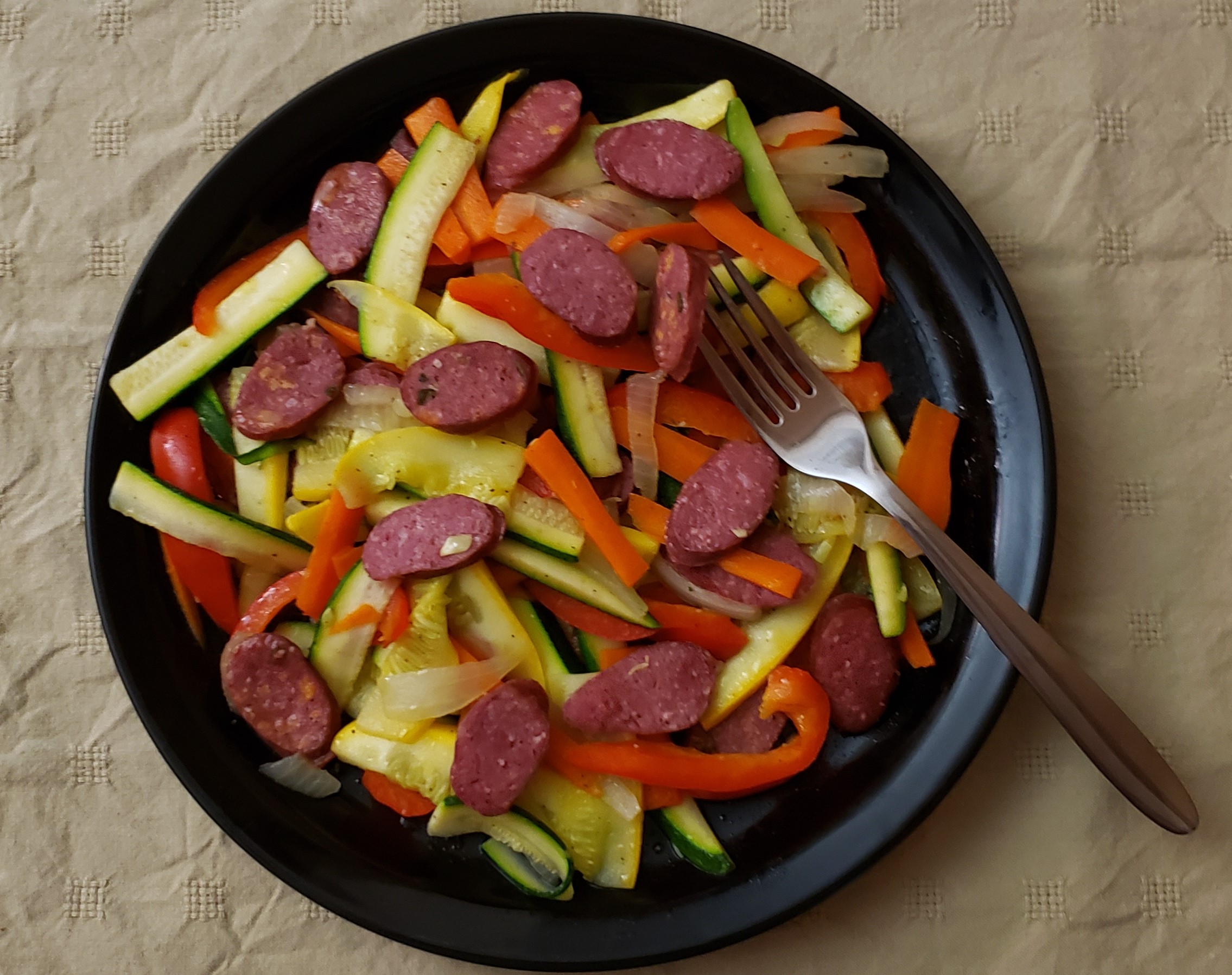 Have you ever tried a Landjaeger? (1) If so, did you ever use it to enhance a meal?
Maybe you are wondering, "What is a Landjaeger?" Sure, let's take a moment to chat about what a Landjaeger is. This popular snack food is a semi-dried sausage traditionally made in Southern Germany, Austria, Switzerland, and Alsace. It's a great food to take hiking, but since it doesn't need refrigeration, it has a history with our soldiers. Generally Landjaegers were available in a single meal size, so a great ration option.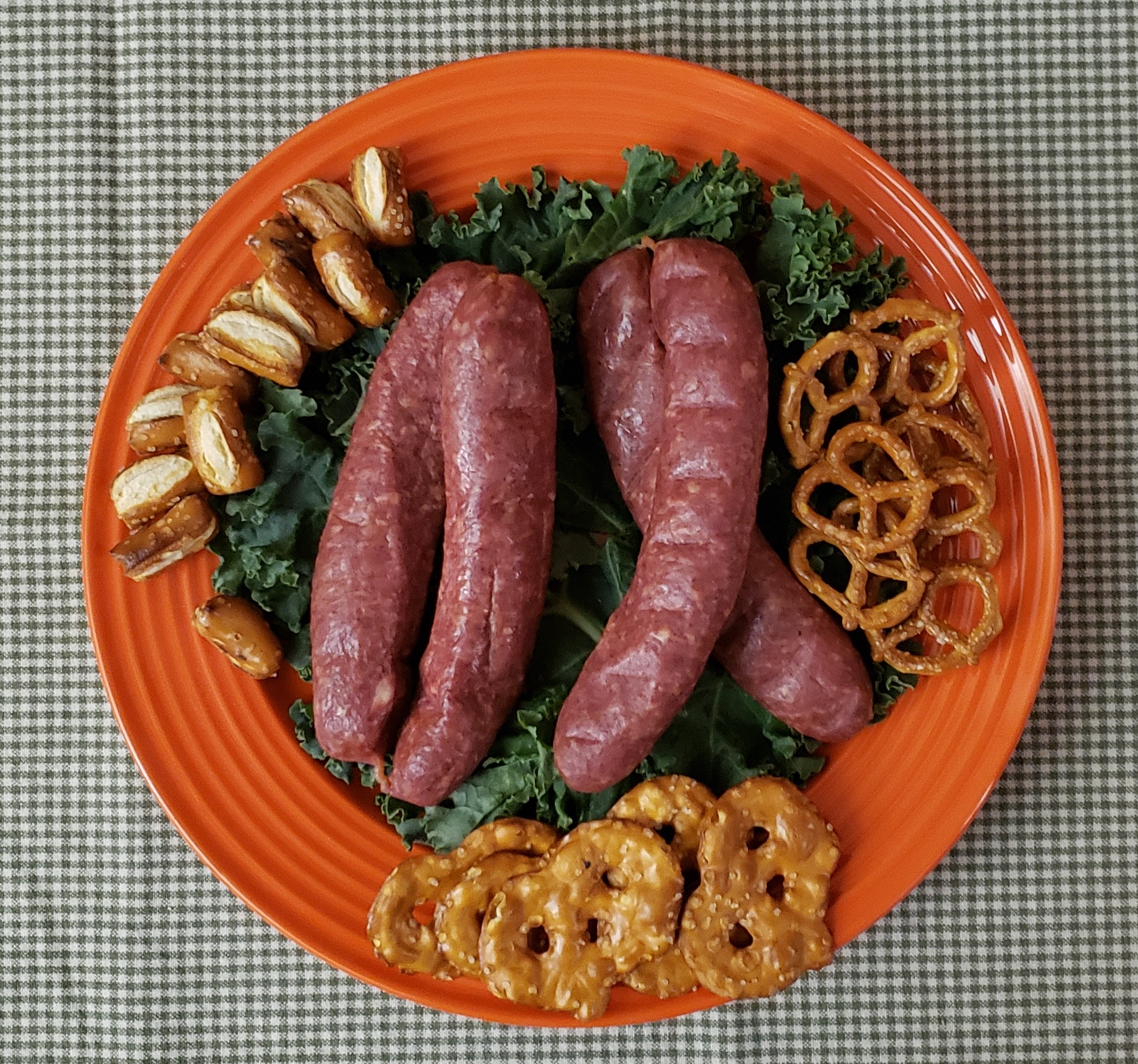 Still not sure what a Landjaeger is? Think of summer grilling or tailgate parties - have you seen a brat in a bun? Well, a Landjaeger looks like a "squished" brat without a bun.
The WI girl emerges again...
Silver Creek Specialty Meats has taken their years of experience crafting specialty sausages and applied it to our Landjaegers. These meaty treats are linked together in pairs and personally this makes them even more fun for me to eat. Side note: if you are interested they are a low carb food that is high in flavor.
The blend of beef, pork, spices, and hardwood smoke create a very satisfying snack. So enjoy this snack whether you are hunting, fishing, camping, skiing, or on the couch watching TV.
As mentioned previously, I'm a Wisconsin girl who loves cheese. We have two options when you are looking at our online store for these: Original or Jalapeno Cheddar. (2) You can take it slow and enjoy the mild side with the original blend or step it up a notch and go for the jalapeno cheddar. We always use aged WI Cheddar Cheese when adding cheese to our products. The jalapenos are dried, so be ready for a bit of a kick. Mild or a bit wild, you choose. Cheese with some heat - now that's a snack I can savor!
So if you are looking for a new meal option, I have lots of ideas. Today in honor of the season, I thought I would share my ideas for a stir fry with Landjaegers. Right now, Wisconsin is filled with Farmer's Markets and farm fresh veggies are available. If you don't have a Farmer's Market near you, check out the produce section at your favorite store. I'm guessing you will be there sometime this week. Pick the veggies you like - the sky is the only limitation you have. The variations are just about endless depending on what's in season.
Zucchini and summer squash are coming out of our ears here, so they are an easy choice. Onions are a great way to season the veggies, personally I like white onions, but sweet yellows work well too. Red peppers will brighten up the pan, so enjoy this addition.
Not a fan of zucchini? No worries, clusters of broccoli work well in a dish like this. Mushrooms and eggplant also offer additional textures and colors.
How about rice or pasta? If you have leftovers of either of these, they can be warmed with the veggies or used as a bed for the main course.
Ok, you need one last thing to make this a true masterpiece - you guessed it - Landjaegers! The Landjaegers are fully cooked and super easy to use. Slice them to your desired thickness and keep on the side for a few minutes while you stir fry the veggies. They are a quick add in at the end, as they just need to be heated.
A quick note about seasonings. If you choose to use the Jalapeno Cheddar style, you might just have all the seasoning you want. Everyone has a different "spice meter," so you be the judge. I'm a pepper girl, so if I'm using the Original style Landjaeger, black pepper, sea salt, and some turmeric usually find their way into my pan.
Now that you have chosen your veggies, wash & slice them into strips. It's time to heat the oil in a large skillet, wok, or electric frying pan. I like to use coconut oil in my deep frying pan, but you can use whatever oil you prefer to cook with.
When the oil is heated, add your veggies and "stir fry" them until just about tender. Now's the time to add your Landjaegers and rice/pasta. When the meat is warm and the veggies are tender with a prick of a fork, dinner is ready. Not fancy, but quick, simple & tasty.
So there you have it. If you are already familiar with Landjaegers, hopefully I gave you a new idea. If you never heard of a Landjaeger, you now know you can enjoy them as a snack or a meal.
The more time we spend together, the more ideas I'll share with you to prepare our Landjaegers. I can't wait to hear how you prepared yours and would love to see a picture!
As always - these items are available online (2) and will be shipped right to you. Easy peasy - tasty treats delivered. Until the next time...
Enjoy the day!
Karla Powell
Resources: